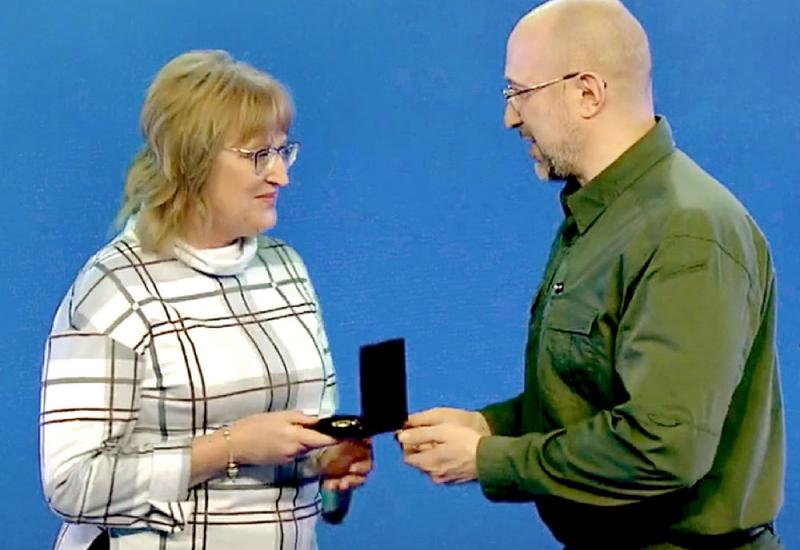 The prestigious Global Teacher Prize Ukraine 2022 in the Volunteer Teachers category was awarded to Liudmyla Bulyhina, an engineer at the Educational and Research Institute of Physics and Technology of Igor Sikorsky Kyiv Polytechnic Institute, a Computer Science teacher at the Polytechnic Lyceum of NTUU "KPI" and the head of the Cybersecurity section of the Kyiv City Junior Academy of Sciences of Ukraine Department. It was presented by the Prime Minister of Ukraine Denys Shmyhal as a recognition of Liudmyla Viktorivna's cooperative work in the "Teacher joins the Armed Forces" project.
The "Teacher joins the Armed Forces" Foundation, created by Liudmyla Bulyhina and Yuriy Hayduchenko, unites hundreds of educators and render targeted aid for teachers at the frontline, providing vehicles, bulletproof vests, helmets, thermal imagers, drones, warm clothes, shoulder pads, etc.
L. Bulyhina has her own scores with the rashists. In the summer of 2014, she was forced to leave the occupied Stakhanov (Kadiivka), Luhansk oblast, where she lived, and move to Kyiv. "No work, no new environment, not even an idea of what and how will happen next. One pair of shoes and a half-empty bag with things," she recalls. And as soon as in February 2022, the woman had to leave her home in shattered Irpin for the second time, and reach a safe place on foot.
Working remotely due to Covid-19 restrictions, the teacher developed effective teaching programs that were highly appreciated by colleagues and attracted a large student audience. Therefore, it is easy for her to communicate with numerous like-minded people, with her students. It is worth adding that her educantees at the Junior Academy of Sciences constantly receive awards in various competitions and contests of innovative projects.
But they are capable not only of creativity. In February, in the first days of the enemy invasion, when confusion and unknownness reigned, it was Liudmyla Viktorivna's young students with their peers, following her advice and consultations, that flooded all available email addresses of russian institutions and organizations with messages about the criminal activities of the orcs. The confused mayor of the capital of the aggressor country then justified himself that the information attacks were organized by large system structures. Yeah, 15-year-old scared children surfing the Internet from bathrooms and basements. At the beginning of March, when asked to tell about her young "hackers' ', the teacher remarked: "Everything that is being done now is being done anonymously. After the war, everything will be revealed. For now, I can only say one thing: everyone is working."
Yes, everyone works for victory. Volunteers tell us: in April, one of the teachers, who defends Ukraine today, needed help. And helping that person gave us the opportunity to see how Ukrainian educators are able to unite in support of their colleagues at the frontline. It started with "getting some bulletproof vests", and then the needs grew every day. This is how the project arised, thanks to which more than 500 Ukrainians have collected funds for 4 vehicles, thermal imagers, body armor, helmets, night vision devices, etc. for teachers serving in the Armed Forces with their donations. Funds came not only from Ukraine, but also from Finland, Great Britain, Poland, Germany, and Canada.
Presenting the award, D. Shmyhal emphasized: "We all owe a great debt to educators, but we are working to make Ukrainian education an integral part of the European educational space. Teachers are raising a young generation that will restore our state and live in a European state." In her response, L. Bulyhina pondered: "When four Ukrainians meet, three of them are volunteers. When four Ukrainian teachers meet, four of them are volunteers. I don't know a single teacher colleague who does not support our heroes. Thank you all infinitely, we will win together."
The war has changed everything, but some things remain the same. In September, schoolchildren and students began their studies. Educational routine has begun. In one of the autumn evenings, L. Bulyhina shared: "I had a day today when I did only what I love: I conducted classes with intelligent students, I developed new lessons without deadlines, "hand in the report on the report" and "it is urgent for yesterday". The head is free, the nerves are normal, the result is maximum." And she added: "Now we have to work a lot to help the front and at the same time make new Computer Science. But on Victory Day we will start a new project. Mossad or not Mossad, the names will come later, but it will be our help for revenge."
Our humble heroic colleagues show future generations how independence is built by their example. It is not for nothing that the awards are engraved: "Dream, inspire, change."