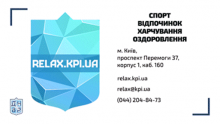 Igor Sikorsky Kyiv Polytechnic Institute Sports Complex (CPES - Centre for Physical Education and Sports) is a place where students spend at least the first two courses of study at our university, as they attend physical education lessons. One of the advantages of the sports complex is the variety of sections, which is very popular and attracts students. Everyone chooses the sport they like best.
The Centre for Physical Education and Sports includes 2 swimming pools (large, training), 8 gyms, a shooting range, a large stadium, a football field with an artificial coating and training field for rugby:
Aerobics Room
Wrestling and Boxing Hall
Physical therapy Room
Gym (trampoline jumping, acrobatics)
Swimming training room
Weightlifting Hall
Gym
Game room
football field
Shooting range
buffet
beauty salon
Details about CPES:
Address of Building № 24: Verkhnoklyuchova st., 1/26 (old address - Poliova, 38).