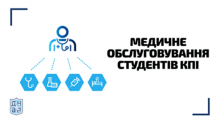 Medical care of students and post-graduate students
Specialized medical and sanitary department №.11 of Ministry of Health of Ukraine
Address: office № 418, 3, V. Hetman Str., Kiev.
Tel: 550-26-77 (provided you contracted with "World" insurance company).
KPI policlinic
Address: 16/2, Academician Yangel Str.
Register office tel: 204-85-62, 204-95-93.
City students policlinic
Address: 25/29, Polytechnichna Str., Kiev.
Register office tel: 236-32-04.
Medical care
According to the resolution of the Cabinet of Ukraine students and post-graduate students need to undergo the annual medical examination. Students are tested for the absence of HIV infection, and students from the countries of Africa are tested for the absence of malaria.
Foreign citizens must have the insurance policy for providing emergency medical care. The insurance policy cost is defined by the contract with insurance company.
Students - citizens of Ukraine or the other students being in Ukraine on the legal bases, can get the medical insurance voluntary.
Improvement and rest
The university has 4 student summer sports and health camps:
"Mayak" situated on the Black Sea: Lazurnoe, Skadovsk, area of the Kherson region;
"Globus" situated in the Carpathians : Vorohta , Vorohta area of the Ivano-Frankovsk region;
"Politechnik" situated on the Kiev sea: Glebovka village, Vyshgorodskyy area of Kiev region;
"Sosnoviy" situated on the Dnipro river: Ukrainka town, Obuhovskyy area, Kiev region.
During winter vacations students have the possibility to spend time in medical and health improving establishments in the Carpathians.