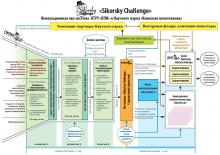 Innovation Ecosystem Sikorsky Challenge National Technical University of Ukraine "Igor Sikorsky Kyiv Polytechnic Institute" (INESC) is designed to carry out the selection, recruitment and training of creative people to create their own business and start-ups. INESC helps participants to find the investors and the promotion of start-ups.
Contact Information:
 Address: 03056, g .. Kiev, Prospekt Peremogy, 37, Bldg. 1, room. 258/3 For more information call: +380 44 4068107, (044) 36-112-16
 E-mail: t-kresan[at]ukr.net
Composition of Innovation Ecosystem Sikorsky Challenge:
Startup School «Sikorsky Challenge»;
Festival of innovation projects «Sikorsky Challenge»;
Business Incubator «Sikorsky Challenge»;
Innovative technological environment «Sikorsky Lab»;
Center for Intellectual Property;
Venture Fund «Sikorsky Challenge».
The main objectives of the Innovation Ecosystem «Sikorsky Challenge» are:
attraction and selection of creative people, willing to engage in innovative entrepreneurship, from the number of inventors, scientists and students Igor Sikorsky Kyiv Polytechnic Institute, other universities, research institutes, as well as representatives of business;
training of the selected participants innovative entrepreneurship and the creation of incentives for them to shape their technological ideas; growing of business ideas,  assistance to participants in the development of projects and prototyping products business;
looking for investors / business angels to invest in long-term projects (the first and second round of investment);
organization and helding of the competition of innovative business projects Festival «Sikorsky Challenge»;
assistance to participants, the authors of  ideas  in sharpening selected start-up projects to the requierments of  the relevant investors;
participation  in the opening and running  start-up companies;
help and support for the protection of intellectual property rights (registration of copyrights, patents, licenses);
providing  legal, organizational, accounting support startap  companies in the second round of investment;
assistance in bringing start-up company to an international level.