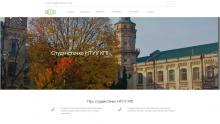 Director of the campus: Ishchenko Olexander Anatoliyovich
tel .: 454-92-31
Management of the campus: dormitory №3, room №2
Office hours: from 9 to 18, lunch from 13 to 14
Email: studmisto [at] kpi.ua
There are 20 dormitories on the territory of the University, which are home to over 13 thousand students. By appointment dormitories of the campus divided into: 17 dormitories for singles, 2 family dormitories and 1 dormitory for postgraduate students.
In the campus held a local computer network with access to the Internet, which is in each dormitory.
All dormitories are situated in the campus of the University, which is adjacent to the park area (Solomensky district, Kyiv).
Dormitories for single are corridor type and block type. Rooms can accommodate 3-4 people. In the corridor type dormitories, rooms with toilets and washbasins are located on each floor at both ends of the corridor.
Shower located on the first floor. There are two kitchens on each floor.
In block type dormitories, block consists of two or five rooms. In each block separately located toilets and showers. In the dorms, where a block consists of five rooms, kitchen is located in the block, and in the other it is on each floor.
The cost of living depends on the number of students staying in the room.
In family dorms rooms have designing like one-bedroom apartments.
Each dormitory has a working room, where students are able to prepare for the lessons, conduct various cultural events, and sports room for sports.
On campus there are: a student polyclinic, student dining hall for 800 seats, shopping centers, shops, cafes, student clubs, children's and sports playgrounds, as well as police and security services of the University.