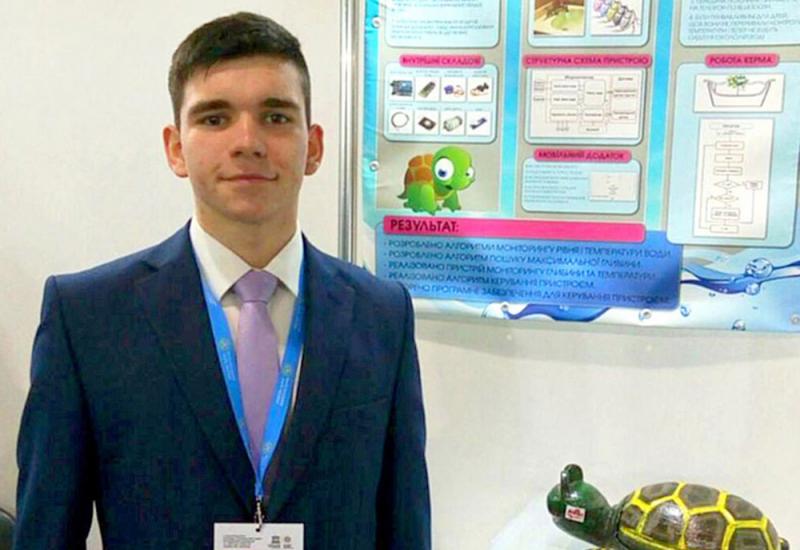 This November was full of victories for Ivan Zagorulko, a first-year student of the Igor Sikorsky Kyiv Polytechnic Institute Radio Engineering Faculty.  He has won top awards in two competitions at once - "The International Invention, Innovation & Technology Exhibition" and "The 7th International Young Inventors Awards 2020". The first competition was held in Malaysia on November 20-21, and the second - in Indonesia on November 8-29. Both were supported by IFIA, the International Federation of Inventors Associations.
In Malaysia, 17-year-old Ivan won a gold medal, and in Indonesia won two awards: a gold medal and an award for the best ecological innovation. Our correspondent talked to the inventor.
- Tell us, what is the essence of the project with which you participated in the competitions, and how did you come up with its idea?
- The name of my project is "Environmentally friendly multifunctional device for the bathroom". It is dedicated to the development of software for a self-created computer system, which is part of a smart home (SH) and monitors the temperature and water level in the bathroom. The idea of its creation arose during my studies at the Kirovograd Small Academy of Sciences in classes that were conducted according to the method of brainstorming. I noticed that technologies for SH are being developed for different rooms, and the bathroom is being bypassed.  There is no wide range of devices for a bath, and especially - multipurpose. After formulating the goal and creating a prototype, it turned out that the created device solves even more problems than expected.
- And what are these problems?
- Solves, in particular, such an environmental problem as the rational use of water in order to reduce the cost of housing and communal services and, of course, the conservation of natural and energy resources. Also the problem of comfortable bathing of the child. And, in general, simplifies daily affairs.
- How did you get to the competitions and how did they go?
- If there was no pandemic, I would have the honour to represent Ukraine at the international level in those countries where competitions are held.  And now everything has gone on-line. In order to compete for prizes in these competitions, you must first pass the national selection in Ukraine, and then apply as a member of the delegation. If we talk about face-to-face competitions, they are very interesting: it is not only defence of work, but also various excursions, trainings, new acquaintances and many other useful moments. And on-line has a few stages. First, the presentation of abstracts so that judges can assess the relevance of the project and its relevance to the area of work or competition. The next step is to submit a full scientific paper so that the judges can fully study it and have a certain impression and possible questions, and the last one is a video conference in the format of a project presentation and a discussion with the jury members in English.
 - Ivan, why did you choose Kyiv Polytechnic to study?
- I wanted to study at Igor Sikorsky Kyiv Polytechnic Institute since childhood, because it is one of the most prestigious institutions of higher education in Ukraine. I like the technical direction, so I decided that Igor Sikorsky Kyiv Polytechnic Institute can provide a large knowledge base on what is now relevant in the country and the world and is developing rapidly.
- And how do you study in the current pandemic?
- Our full-time education lasted only one week, to get acquainted with the subjects and teachers. It is clear that these are not the feelings and experiences that could be in the absence of a pandemic. But I was pleasantly surprised that the university uses a lot of different methods and resources for distance learning. It is difficult to study, but if you want - anything is possible. Over the course of one week, I enlisted the support of teachers who agreed to help me with projects. The Faculty of Radio Engineering is closely connected with my interests, and I am very glad to study here.
- What do you do in your free time?
- An interesting question! As a student, I don't have too much free time, so I use it for my own pleasure, namely to work on my own projects.
- And, at the end of our conversation, tell us about your immediate plans?
- I started cooperation with the business incubator UF INCUBATOR from the Small Academy of Sciences of Ukraine (SASU) on the development of a start-up, namely - my bath device. We are working on improving the project and possible global production. In parallel, I am working on a new development. This is the "Concept of modernization of emergency medical care by means of multicopters", which has already been presented at the final All-Ukrainian stage of the competition-defence of research works of students-members of SASU.