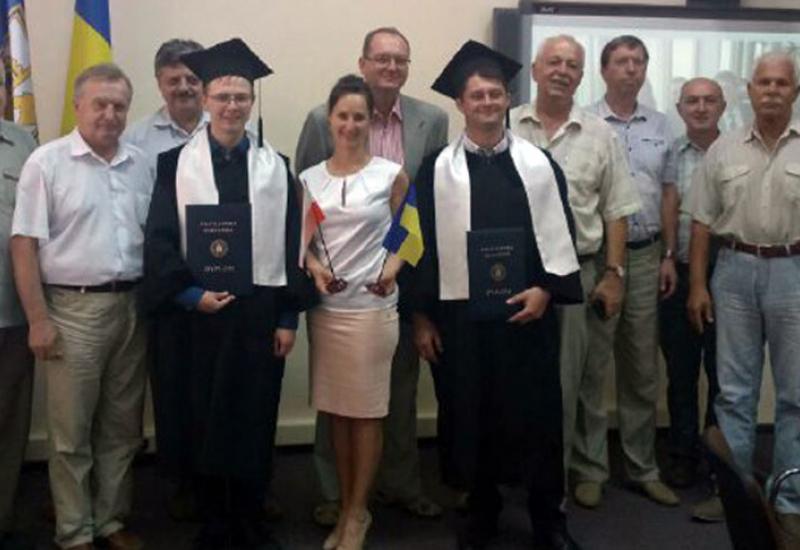 The two graduates of the Mechanics and Machine-Building Institute of Igor Sikorsky Kyiv Polytechnic Institute, who participated at the same time in the double diploma program of Poznan University of Technology, received their master's degrees on June 6.
Victor Rubashevsky (Department of Dynamics and Strength of Machines and Strength of Materials) and Vitaliy Boyko (Department of Applied Hydro-Aeromechanics and Mechatronics) (on the picture) were the pioneers of the program.
The defence of their master's theses took place on May 23 in Poznan. It was held in English in a presence of leading experts from both universities and guests from the French University Universite Polytechnic Hauts-De-France.
KPI students demonstrated brilliant knowledge and got excellent marks both from the Examination Commission of the Poznan University of Technology and Igor Sikorsky Kyiv Polytechnic Institute (most members of this Commission participated in the defence on Skype). The Master's thesis format was unique to both universities, but this openness, above all, demonstrates the confidence of partner universities in the quality of graduate preparation. Such a defence is the best advertisement for universities. Each of the universities offered the graduates to continue their studies in graduate school.
A dual PhD programme in the relevant fields is among the future plans for cooperation between universities.
According to MMI and Ukrainian-Polish Center