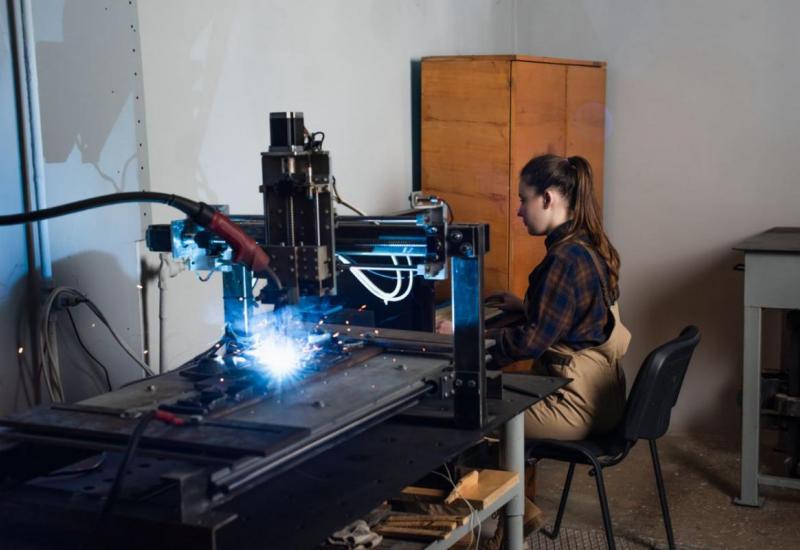 How Kyiv Polytechnic prepares engineering staff of different directions for the reconstruction of the country
The full-scale invasion of Russia has dramatically changed the Ukrainian labor market. Nowadays, Ukraine needs high-quality professional engineering staff more than ever. The Kakhovka hydroelectric power plant is scheduled to be rebuilt over the next five years. Both now and after the victory, the country will need military technologies, from drones and ATVs to artillery pieces. After the blackouts, our energy system is in dire need of highly qualified energy engineers.
The state promotes the training of new engineering personnel: there is no shortage of state-funded places in Ukrainian universities for relevant specialties. Universities cooperate with the largest state-owned enterprises and train students to meet their needs using the most modern approaches. We talked to the heads of the faculties and institutes of the country's largest technical university, Igor Sikorsky Kyiv Polytechnic Institute, about how they train mechanical engineers, power engineers, chemical engineers, and welders in the midst of war.
"Energoatom, ZNPP and nuclear safety
Today, the country urgently needs power engineers. In addition to the existing plants, there are big plans to build and complete the Khmelnytsky nuclear power plant. Ukraine has an agreement with the Japanese-American company Westinghouse Electric, which wants to build a large number of power units in Ukraine, including the first two at the Khmelnytsky plant. Despite the war, the project has not been frozen. The company has already asked Kyiv Polytechnic to send senior students for an internship at Westinghouse. After the internship, the young specialists will be hired to work at the company's engineering center, which they plan to establish in Kyiv.
"We are training these personnel at Igor Sikorsky Kyiv Polytechnic Institute. Our institute includes a training and research center for nuclear security, a research center for reliability and safety, a research and experimental laboratory for power equipment processes and a laboratory for training modeling of energy processes, and a laboratory for cyber energy systems. We also have methodological support for IT technologies, and we have opened new programs," says Yevhen Pysmennyi, Director of the Institute of Nuclear and Thermal Energy of KPI.
The institute received powerful equipment from the US Department of Energy: a multifunctional simulator of tactical VVERs. It is used to train undergraduate and graduate students in the specialties of nuclear energy and power engineering. This equipment allows them to conduct research, model different types of reactors and learn how to operate them.
"We also have a master's program in Physical Protection and Accounting and Control of Nuclear Materials. With the help of the IAEA, we opened new laboratories for physical protection systems. We were supplied with modern equipment needed to protect critical infrastructure facilities, especially those that use nuclear material. Although these systems can be used at other facilities that need such protection. The equipment includes various types of access control systems, sensors, and video camera systems. This is what today's students need when learning to manage such systems. One of the tasks of such training is to create and operate such systems. This allows us to develop," explains Pysmennyi.
The university has been cooperating with Energoatom, which is KPI's employer, for many years. The parties have agreements on training and scientific and technical cooperation.
"Our graduates mostly do their internships with them and then get employed there. Recently, we have managed to increase the number of internships - we have brought back internships after the third year. Our students have a unique opportunity to practice on VVER-1000 equipment in full size - they can see everything at the station, where students are not allowed to access, and they are not exposed to radiation," says the head of the institute.
He hopes that students will soon be able to work at the liberated ZNPP and repair the damage caused by the russians.
Glass and plastic for reconstruction
For many years, the country's chemical industry has depended on the market and customers for personnel: from farms and water purifiers to the construction and cosmetics industries.
Nowadays, chemical education in Ukraine is becoming more versatile, and specialists are gaining a broader profile.
"Our graduates can work in many areas: in their specialty at an enterprise, in a business that sells equipment for that enterprise, in the sales department of that enterprise, in a laboratory that conducts research that is then implemented at the enterprise, engage in research activities in scientific institutions, creating technologies or developing materials, and work in related fields. Chemical education significantly develops intellectual abilities that can be easily adapted to any field. This is a very high-quality fundamental training not only in terms of knowledge but also the development of practical skills - a person trains the brain to solve problems. Then these skills can be applied in various fields, including engineering, technology, digital technologies, etc.," explains Hryhorii Vasyliev, associate professor of the Department of Electronic Production Technology at the Faculty of Chemical Engineering of Igor Sikorsky Kyiv Polytechnic Institute.
The process of studying chemistry at Igor Sikorsky Kyiv Polytechnic Institute is as follows: in the first year, students study general disciplines, and in the second year, they choose one of the educational programs. The first program is related to electrochemical production (i.e., everything related to the use of electrical energy for chemical reactions or the use of chemistry to generate electrical energy). The second is inorganic substances technology for water purification, which is related to the production of inorganic substances and water purification. The third area is organic substances and their technologies, i.e. organic synthesis and organic production. Another educational program is technologies related to food additives and cosmetics. There is the area of ceramics and glass: the production of glass with various properties, such as optical glass and glass for various purposes, which is especially important during the reconstruction of the country. Another industry is the technology of composite and polymeric materials. That is, the production of polymer products and the manufacture of various binders, such as construction mixtures.
"Of course, it's impossible to learn chemistry sitting at a textbook or a monitor, because these are skills that need to be acquired with your hands. That is why almost all our courses are accompanied by a laboratory workshop. Starting with general chemistry, where fairly simple experiments are performed in glassware, and ending with more complex technological courses, where certain substances are obtained or analyzed. There is a set of laboratory facilities that simulate the operation of real reactors or apparatus for producing substances. There are also separate courses where we teach how to work with analytical equipment that corresponds to the world's modern laboratories. To obtain this laboratory equipment, we apply for grant programs. In this way, we try to meet the world's standards," says Hryhorii Vasyliev.
In recent years, the faculty has been rejuvenated - many of the scientists here are under the age of 35. After graduation, they get a third degree - a PhD - and continue to work at the university.
"And, of course, since scientific work must be done, our scientists want to do this work with payment. They take part in various competitions - from the Ministry of Education and Science, the National Research Foundation. They submit project applications to European competitions to receive funding. As part of these projects, we were able to significantly upgrade the material and technical base, purchased modern instruments for electrochemical analysis, spectral analysis, and material structure research. All this equipment has been installed and put into operation, and as part of the educational process, students can acquire skills in using it and use it to perform research," the scientist explains.
Chemical specialists improve their skills at both Ukrainian and global enterprises.
"Several years ago, my department carried out a research project commissioned by an Austrian company that is one of the European leaders in the field of electrochemical coating. Our specialists were commissioned by them to carry out scientific work, improve the quality of one of the coatings, and then implement these results at the plant in Austria, while improving their skills there at modern electrochemical production. Since our specialists are highly qualified, we have orders for scientific results abroad," says Vasiliev.
Helicopters for the country
Ihor Hryshko, director of the Mechanical Engineering Institute, is confident that due to the lack of engineering personnel, it is easy for engineers to find a job in Ukraine. Students start working in their third year and receive 15-20 thousand hryvnias at the start. Companies are always coming to the university with requests: they ask for designers and technologists.
His institute has the same system as chemical engineering students: first, general disciplines, then division into educational programs, and then internships at enterprises.
The KPI Mechanical Engineering Institute has five study programs: automated robotic mechanical systems, aircraft manufacturing technology, mechanical engineering technology, dynamics of robust machines, and machine construction and design.
"During the first year of study, our students study general disciplines, and after completing the first year, they are assigned to educational programs. There is an opportunity to study in a dual form of education - we have agreements with Progresstech Ukraine and the Artem plant. It is also possible to sign agreements with other companies.
Our students do their internships at both state and private enterprises - the coronavirus and the war have allowed us to send them even to the regions (because according to the old ministerial order, we have the right to send them only within a 20-kilometer zone from the university). We have classrooms equipped with modern equipment, such as in large enterprises, where they are then employed (we do not name them for security reasons)," says Ihor Hryshko.
At the Ukrainian-German Center for Mechanical Engineering, students can receive additional educational services outside of school hours. In the first and second years of study, they learn German outside of classes, and then go to Magdeburg for language practice. In the summer after the third year, they go to an industrial training program, so they have the opportunity to get a double degree.
"We are currently resuming the double degree program with the Warsaw University of Technology. This year, we will be enrolling masters under this system. In general, we have many programs: KPI cooperates with more than 52 countries," adds Hryshko.
In their extracurricular time, students improve their soft and hard skills in clubs. They develop robots, research prosthetics, and organize Formula competitions.
"It's a unique thing: they created five cars and went to competitions abroad with them. The clubs are another opportunity to practically implement the knowledge gained in lectures. The community in which you can realize yourself is a huge advantage of KPI," says the director of the institute.
He is convinced that Ukraine must transform from a country that trades in raw materials to a country that sells finished products. For example, the country has plenty of small companies that manufacture small helicopters and various aircraft.
"We are not training a worker who will stand behind a machine. We are preparing a manager who can fully manage the processes, who understands where to get raw materials, how to process them, and how to sell the finished product," says Hryshko.
Metal
In the post-war reconstruction, the country will need metallurgical engineers. In particular, the E.O. Paton Educational and Research Institute of Materials Science and Welding specializes in this field.
"Our institute is a leader in the field of materials science, metallurgy, laser and welding technologies. It is one of the leading institutions in the development of critical technologies, ensuring scientific and technological progress in Ukraine and building the state in the postwar period," says Anatoliy Minitsky, head of the institute.
His students study: breakthrough advanced technologies for the creation, welding, design, production (including 3D printing) and long-term operation of parts and joints of structures made of unique composite materials and coatings focused on the aviation and defense industries; the latest computer technologies for the design, production and use of nanomaterials; methods for predicting the durability of materials and structures depending on the nature, structure, manufacturing technology and operating conditions. There is a special demand for educational programs in the following specialties: 132 Materials Science, 136 Metallurgy, 131 Applied Mechanics.
Graduates are prepared to work in the aviation industry, Ukroboronprom, in forensics, at companies that manufacture medical instruments, implants, medicines, nanoelectronics, telecommunications devices and equipment, at research centers and institutes of the National Academy of Sciences, and at institutions for materials expertise and environmental safety.
"Our graduates work as heads of government agencies, directors of enterprises, specialists in various industries: research engineers, designers, technologists in research and design organizations that develop and implement innovative processes and equipment," says Anatolii Minitskyi.
"While our military is defending Ukraine's borders from the Russians, a reliable rear should be working today to create a modern post-war country - secure, strong, and innovative. Russia will not disappear from the political map, so we must be ready to fight back - physically and intellectually.