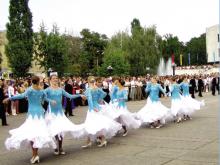 Place of occupations: Recreation center, Foyer of the II-nd floor
Days of occupations: Tuesday, Thursday, Saturday - 17:00-22:00
Head: Irina V. Oliferenko
Phone: 0930133080
The ensemble was created in 1983. The main structure of collective are students of our higher education institution. Skilled experts of the business direct collective: Pyotr and Irina Olefirenko is masters of the international class, winners of the international competitions for many years.
The ensemble of the ball dance "Style" is the founder of the competition "Magic Rose", the successor of the traditional competition "Kiev Chestnuts". The ensemble executes dances of the European and Latin American programs, historical and household and modern dances.
The winner of many festivals and competitions, ensemble in the creativity has awards of various advantage. Among participants of collective - prize-winners of the national championships of Ukraine. This collective invite with pleasure to prestigious scenes of Ukraine and the leading concerts in Kiev. At the Center of culture and arts the school of ball dance where everyone can learn this bright, prestigious to art is created.