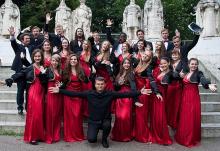 Is art difficult? Yes, but if you practice it in a friendly group, then even the most difficult activity becomes a pleasure.
For 75 years, the group has been enchanting and exciting the interest of numerous fans of the song with its originality and highly artistic performance, an amazing variety of voices, a diversity of emotions, hearty, outright manner and benevolence.
The chapel performs in many concert halls of Kyiv, it is a regular participant of Christmas concerts at the Taras Shevchenko National Opera and Ballet Theatre of Ukraine, numerous cultural events of the city; the chapel actively participates in programs on radio and television, successfully presenting the university on various show projects. This is due to the fact that it has the most diverse repertoire - from authentic folklore to classic a-cappella arrangements, and works of modern composers; from vocal and choreographic scenes, compositions, folk performances to folk opera and jazz.
Each member of the choir has unique abilities, capabilities and a degree of immersion in the art, but together, they work marvels.
No matter where the chapel performs - on its native land or on distant continents - the world recognizes its superior work as a creator of extremely original, authentic and at the same time universal song and musical treasures, a healing Ukrainian song. Complimentary articles in the press of Germany, Romania, Poland, France, Norway, Finland, Spain, Portugal, Italy and many other countries speak volumes for it.
Now the band is successfully touring European countries, participating in contests and festivals and making an invaluable contribution to the revival and development of Ukrainian choral art and the popularization of Ukrainian culture.