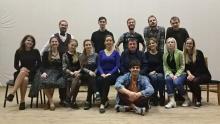 Students get acquainted with acting skills, public speaking, and the art of declamation.
They study the basics necessary for true stage experience (sense of truth, emotional memory, stage attention, working with a partner).
Students also conduct scene studies on attention, imagination, justification of action, public loneliness, memory of physical actions, observation, etc. Moreover, they work on dramatic passages, put plays into rehearsal, and, of course, participate in the studio theater premiere performances.
The studio has repeatedly participated in the show contest of theater groups of higher educational institutions and other amateur groups of the city of Kyiv and took first places, diplomas for the substantiation of the director's conception on the stage, for the excellence of rendition roles, etc.
The main thing that our theater teaches is what allows a person to develop and nurture his emotions. It is here that a great variety of one's emotional experience is provided. Living the life of characters, a person freely - involuntarily acquires their own experience in resolving conflicts, in getting out of stress, learns all the beauty and incomparability of feelings. The purpose, content and the very essence of the theater are one thing - to show the inner, spiritual life of a person in all of its multifaceted aspects.
The following performances are in the repertoire of the People's Studio Theater:
French Love by Marc Camoletti, Cylinder by Eduardo de Filippo, Little Tragedies by O. Pushkin, Warsaw Melody by L. Zorin, Those Years by P. Gladilin, Giovanni's Room by James Baldwin, The Rainmaker by N. Richard Nash, The Savage and For the Greater Good by Alejandro Casona, All About Love by Teffi, The Catcher in the Rye by Jerome Salinger, The Glass Menagerie by Tennessee Williams, Cosmetics of the Enemy by Amelie Nothomb, America by Franz Kafka.
Art director is Mykola Voronenko.