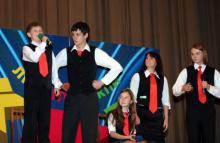 Director: Anatoly S. Homutianskyy
Phone: 066-721-89-79
Schedule: Monday, Friday; Time: 17.00 - 21.00
History of KPI's KVN began in 1993 on the initiative of the administration of the Center of Culture and Arts. The first team "Cowboys of Polytechnic" began its existence with the first participant and the team captain M. Nelipa. Boys themselves developed scenarios, prepared new reprises' texts, sketches, jokes. The first director was P. Olevskyi. The team's style was always distinguished by a high level of internal culture.
In March 1995, a new team of KVN called "Matador" was created. During the six years of great work with the permanent captain of the team V. Botnikov, they became champions of Ukraine, vice-champions of the KVN Association League of Ukraine, semi-finalists of the International Northwest League, played successfully at Masliakov's and gathered full house all over Ukraine. The Honor Code of KVN has been developed. Requirements for the team members are challenging: to be good actors, singers, dancers, directors, costumers, designers, to be able to come up with jokes and still be good students. Since 1961 KVN has been a student game, so in NTUU "KPI" people will continue participating in KVN while there are studying funny and witty individuals, who will always be accepted to the Center of Culture and Arts.
In April 1999 on the initiative of O. Yeriomin and with the help of organizers Maxim, Artem and Galina Sahdiyev, KVN League of KPI was created and exists ever since. KVN League of KPI is an association of young teams of the whole university.