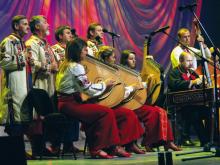 Leader: Rudenko Valentina A.
Schedule: Monday, Friday
Time: 17.00 - 21.00
Bandura Players' Choir of KPI was founded in 1961. Then it consisted of a small group of students and professors of the university. Since then and still, amateur artists-bandura-players inspiring and elevating singing promotes fine art and charm of Ukrainian folk songs not only at home in Ukraine, but also abroad - in Armenia, Poland (1972), Germany (1969), Bulgaria, Spain (1993). The artistic director of Bandura Players – the honored worker of art Victoria Shevchenko.