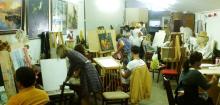 Have you ever wondered how the masterpieces that take place of honour in today's galleries are created?
In the studio "Harmony" even those who have never drawn before begin to create. Interesting workshops and lessons in painting, graphics, drawing from nature and plein-air painting, new knowledge and the joy of creativity are waiting for you. Classes at the studio will help you overcome fear and insecurity.
While drawing, you will understand that all complexity is, in fact, just a logical sequence of steps, knowledge of certain proportions and, of course, practical attempts. From time to time, the studio holds students' exhibitions in Kyiv and other cities of Ukraine, so you will also take part in them.
Head is Andriy Kulagin