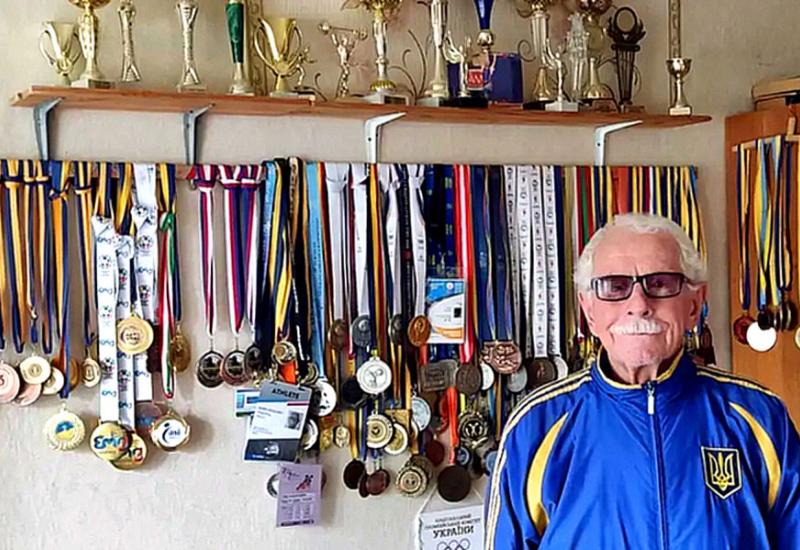 Portrait photographs of famous athletes are usually very similar to each other: a person with a wide ribbon over their shoulder looks proudly directly into the camera. On the ribbon there are their numerous (or not so) awards won at competitions of various levels. They are complemented by several medals of different sizes and shapes around the neck. However, it is impossible to make such a portrait of Borys Kovalsky, Professor at the Department of History of the Faculty of Sociology and Law, the famous Ukrainian scientist, the first co-chairman of the Association of Historians of the Higher School of Ukraine and, at the same time, probably the most titled veteran athlete in Ukraine. For the simple reason that even the total weight of his sports trophies, according to him, is more than a pound. Another thing, if you consider them one by one, each award has its own story, sometimes even dramatic, because in sports, as in life, achievements come with hard work and sometimes require real self-denial.
Several more awards were added to his collection this year. He picked them up at the Small European championship in athletics, which took place in the city of Lovosice, Czech Republic, from August 12 to 14. This traditional tournament is called "small" because athletes compete not in thirty, but in twenty disciplines of athletics, because only veterans - athletes over 35 - participate in it; so, 10 super hard types are excluded from the list of competitions such as marathon and some others. This year, teams from almost all European countries, except russia and Belarus, were represented at the championship. Professor Kovalsky competed in the age category up to 79 in all types of throws - javelin, discus, hammer, weight and shot put - and picked up awards in all of them: he brought home one gold, three silver and one bronze medals! He was also awarded a special cup, which he received as a record holder and a constant participant of these competitions since the first year of their holding.
Our newspaper has already written about Borys Pavlovych Kovalsky, however, his new achievements could not leave the editors indifferent. Because they were made in a difficult war year, when even preparation for the competition required special efforts.
"After the start of the large-scale war that russia unleashed against our country, there was no place to train efficiently, so, from the end of April I just went to the park near my house. Then, after the resumption of the work of public transport in Kyiv, I received the permission of the rector and from the end of May started preparations for the competition at the university sports complex. I was still thinking whether to go or not to go, but I was sent an individual invitation not only from the organizing committee of the competition, but also from the mayor of the city, since I was the winner and awardee of all the previous Small Championships in Lovosice. It did not seem appropriate to refuse, - says Borys Pavlovych. - Well, I got on the bus and in 32 (!) hours I was in Prague. Lovosice is just a step away from there - about an hour's drive." As for living conditions, the hosts of the championship met him very hospitably, he lived in excellent conditions, as they say, on full board basis. By the way, in this very hotel, the city authorities also housed Ukrainian women with children who were fleeing the war in the Czech Republic, so children's voices and the Ukrainian language were constantly heard around.
When asked who helped with the travel funds and, in general, funds for the preparation for the competition, he answers with a smile: "I have a powerful sponsor - my family. The eldest son said: "We will vote whether the old man goes or not." The grandchildren raised their hands first, and there were as many as seven of them!... So, I had no way out."
Borys Kovalsky performed in the Czech Republic in all types of throws as he almost always did at athletics competitions. For him, this is, to a certain extent, a tribute to his athletic youth, because even in his student years he earned the title of master of sports in athletics decathlon, which includes the shot put, discus throw, and javelin throw.
Here it is worth getting off a subject and note that throwing requires considerable physical strength and, at the same time, speed performance and good movement coordination. Therefore, such athletes often demonstrate good results in weightlifting and powerlifting. Borys Pavlovych is a striking case in point: despite the fact that barbell exercises were auxiliary for him, he had quite high achievements in these disciplines yet in his youth, and when he reached the veteran age, he became one of the world's most titled masters of the canvas in his weight. That's why gold, silver and bronze awards for the barbell snatch, clean, and jerk combination at competitions of various levels - from the university and up to the Olympics for veterans - are most of his huge collection of medals. By the way, until the age of 70, he not only performed on a par with students of Igor Sikorsky Kyiv Polytechnic Institute at the university championships, but also constantly beat them! They trained together, and sometimes he could help his younger opponents with advice on training methods and the technique of performing certain exercises.
Behind all Borys Kovalsky's sports achievements is a lot of hard work. He trains according to his own methodology, carefully listening to his body, and guided by the experience gained over many years of hard work in stadiums and gyms, as well as knowledge of physiology and ways to restore the body after physical activity. And his experience is truly unique. When asked how many years he has been involved in sports, Borys Pavlovych answers: "Since school age. And if we take into account football as well, then since preschool age. Like a lot of boys of the post-war generation, I loved to kick the ragged ball about with my peers. I got the real one from my father later. But I began to practice seriously in the seventh grade. I became interested in freestyle wrestling and even in the eighth grade I competed in "adult" competitions... Then there was decathlon. When I entered the Faculty of History and Philosophy of Taras Shevchenko University of Kyiv, I was already a first-rank sportsman. During all the years of studying I represented my alma mater in competitions at home and even abroad. In addition to the ordinary one, I also received a sports scholarship, but I did not forget about my studies: I always took textbooks with me to all competitions and meetings. In 1968, I received the title of master of sports... "
Of course, his life has always been filled not only with sports, otherwise he would not have become a professor, and head the university department of history for a quarter of a century. After graduating from the university, he worked for two years at the Zaporizhzhia Mechanical Engineering Institute (now - Zaporizhzhia National Technical University). Then - embankment to postgraduate studies at his native faculty, defense of a thesis, and the start of work at Kyiv Polytechnic Institute. Since that time, his whole life has been inextricably linked to the Kyiv Polytechnic Institute. Throughout all the years of his work, Borys Kovalsky has been actively engaged in science, took care of the problems of effective teaching methods, gladly worked with students...
However, he never gave up intensive physical training. "When I retired from sports, I played badminton for a while," - he recalls, - "until a sports complex was built at Kyiv Polytechnic Institute at the end of the seventies of the last century. By the way, I participated in its construction together with the students... I glanced, and it was so beautiful! Moreover, there was no such a university sports complex not only in the former Soviet Union but in all of Europe! And I started to visit it for weightlifting training. I trained with students, and then a good company of veterans gathered..." Then he also returned to the technical types of athletics, which throwing belongs to. Since then, the sport of great achievements and competitions - already in the veteran league - entered his life again.
...Talking to Borys Pavlovych is very interesting. He is one of those people who are called the "living history" of the university. And even more, of all Ukraine. And as a person with an active life position and a sharp mind, he was directly involved in many processes of university life reconfiguration. However, it is impossible to cover everything in one conversation in the editorial office, so this time we talked only about his sports achievements.
Next May, Borys Pavlovych Kovalsky will be 80 years old. But he does not plan to quit either work or sports. He still teaches three historical disciplines at his department. And in sports, it will simply mean a transition to the next age category for him. Therefore, we are sure that he still has a lot ahead. And his huge collection of sports awards will be replenished with more than one honorable award. So let's wish him success and new achievements in all his endeavors!