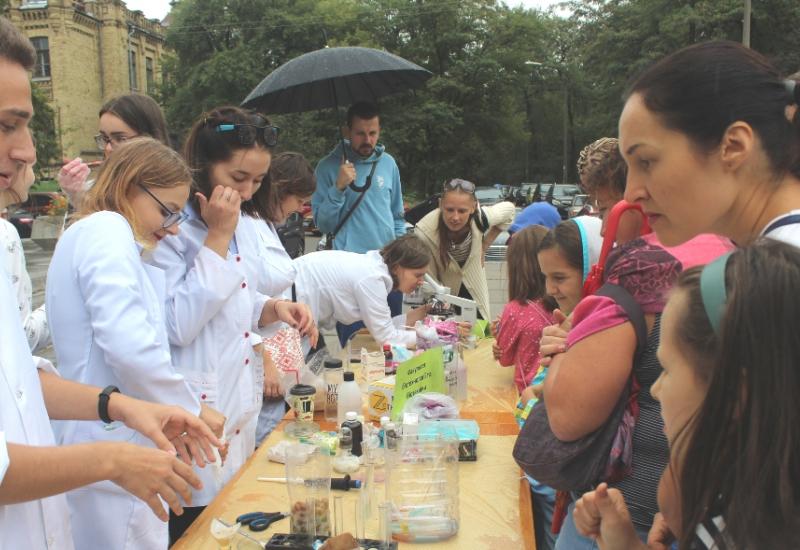 September 8, Igor Sikorsky Kyiv Polytechnic Institute hosted the first "TechnoArtKPI" and "Kyiv Extreme Fest" festival.
The idea of ​​holding the festival belongs to the associate professor of the department of technology of electrochemical manufactures of HTF Julia Miroshnychenko. An associate professor of the Department of Applied Hydroaeromechanics and Mechatronics of MMI Natalia Seminska, associate professor of the department of electric welding plants of ZF Yevgeniya Chvetko, senior lecturer of the Department of Instruments and Control Systems of MMI Ganna Saryboga joined her. Having created the initiative group, they, with the support of the vice-rector for scientific and pedagogical work of Petro Kyrychok, acted as the organizers of the festival.
To combine purely technical achievements and the introduction of the Igor Sikorsky Kyiv Polytechnic Institute with the artistic achievements of polytechnics was the idea of ​​the organizers. In addition, "TechnoArtKPI" was complemented by extractions from "Kyiv Extreme Fest".
The festival was opened by Vice-rector for scientific and pedagogical work Petro Kyrychok.
In spite of bad weather and rain, which could be observed from time to time, numerous technical and art platforms, master classes, quest "Breathtaking KPI" began to work on the Square of Knowledge, tours to the State Polytechnic Museum, Scientific and Technical Library and "Tower" Art Space. In the student's space of Belka, the work of the lecture space "School of an Entrant" was organized. Foreign students of the university staged an ethnographic show "Kyiv International", during which, among other things, they also gave guests dishes of national cuisines of their countries. Visitors were also able to see the launch of the drones and the exhibition of electric vehicles. And such locations as "Interesting Chemistry and Biotechnology", "Country of Robots", "Interesting Electronics", "Foreign School", "Rock Climbing", "Parkour Zone" and others have demonstrated a wide range of professional activities and enthusiasm for university students and staff.
The final program of the festival was a rock concert "Musical KPI".