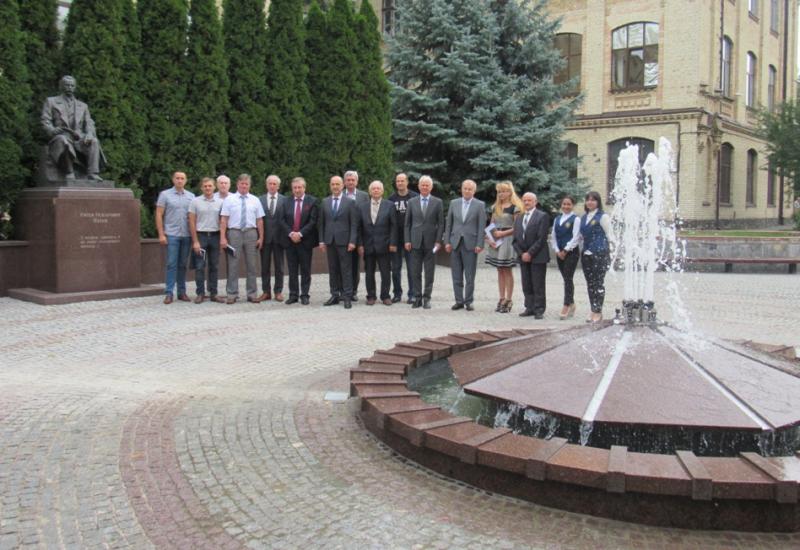 On September 4 the solemn opening of the reconstructed and refurbished fountain took place at KPI Museum Square in front of the monument of the KPI Professor, academician Eugene Paton.
The restoration of the fountain was carried out this summer at the expense of the Kiev trade union organization of education and science of Ukraine and the Student Trade Union Associationof Kyiv. Design and construction were developed by leading architect of Igor Sikorsky Kyiv Polytechnic Insitute Stanislav Snezhkin, Chief Engineer of the "Lubawa" = Enterprise (Korostyshiv) Dmytro Yaremchuk and Vice-Rector of Scientific Research Vitaliy Kotovsky. Installation work was carried out by the employees of the company "Lyubava" and employees of the department of administrative and economic work under the general leadership of the vice- rector of administrative and economic work Peter Kovalev.
During the opening speech the rector of the KPI Michael Zgurovsky has noted that traditions of patrons laid down in the early years of the university's existence were reborn in our time and reminded of the objects that, thanks to the support of indifferent people, grew on the territory of the university campus during the last decade. One of these objects is a fountain decorating Museum Square.
The opening ceremony was also designed by the head of the Kiev trade union organization of workers in education and science of Ukraine, Oleksandr Yatsun. He emphasized the idea that the university should be the center, in which and around which life is raging, and also invited patrons to support Igor Sikorsky Kyiv Polytechnic Institute and its endeavours.
On the photo: participants of the opening ceremony near the renewed fountain