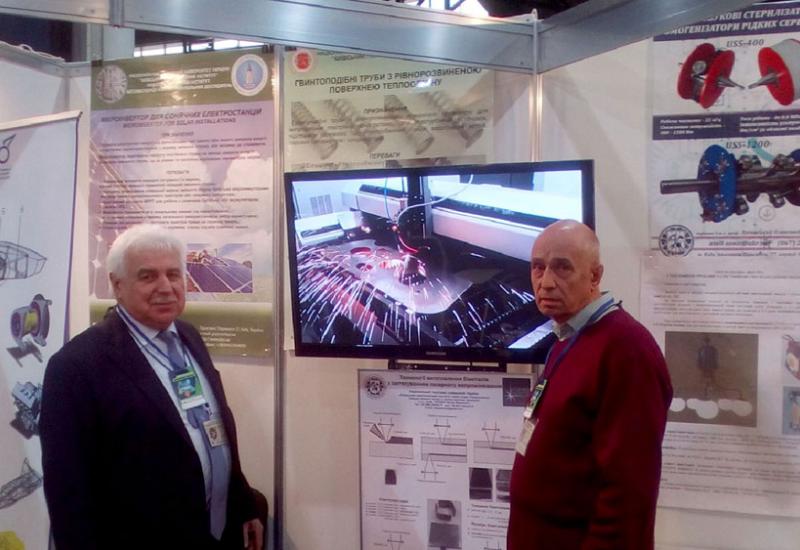 At the International Exhibition Center in Kiev, 22 -25 November 2016 as part of the XV International Industrial Forum "INNOVATION MARKET" held International Industrial Exhibition innovation and scientific and technological developments and the International Industrial Exhibition in metal, machinery and related industries. They are members of the Forum can view the current domestic innovation potential market and learn about its development prospects.
In the exhibition was attended by representatives of Igor Sikorsky Kyiv Polytechnic Institute.
Special interest of visitors caused the innovations ready for implementation in production (head of scientific direction - Professor L.F.Holovko MMI), equipment and technology for manufacturing bimetal using laser surface treatment; manufacture diamond wheels with the use of high-performance laser technology termodeformatsiynoho sintering; high-performance laser technology to strengthen knives for the processing of sugar beets, which provides a significant increase in their life due to the effect of samozatochuvannya; increasing the service life of gear pumps; laser hardening of parts and tools with cutting edges hostrozatochenymy wedge shape; non-contact laser metal forming spatial structures of complex configuration; increasing the durability of heavy-duty friction units; Laser increasing rigidity sheet metal products; laser processing thermal-sprayed coatings; efficiency thermochemical treatment laser surface modification.
Positive comments were also two existing models of racing cars designed by students and graduate students MMI (project coordinator - Head of Integrated Technology Engineering MMI Ph.D., professor V.A.Pasichnyk). They meet the technical regulations of international competition "Formula SAE" and has participated in international competitions in 2016 in Hungary and the Czech Republic. Cars represented by members of the team "Formula Student".
Not bypassed by his attention and jet-fuel combustion niche technology (SNT), which was developed as a result of theoretical and experimental studies conducted in the laboratory "burning" of the University (supervisor - Dr. M.Z.Abdulin) ; line for recycling waste tires and waste rubber, developed and produced JSC "SPE" Bolshevik "together with scientists of engineering and chemistry department" KPI them. Igor Sikorsky "(supervisor joint development - Professor I.O.Mikulonok) technology" burning "(supervisor - Head of Department of Welding prof. V.V.Kvasnytskyy ) mikroinvertor for solar panels (supervisor - Professor Yu.M.Tuz - SRI AED).
During the exhibition in the Kyiv Polytechnic Institute scientists have established contacts with a number of industrial enterprises and organizations.
The results of the International Forum "INNOVATION MARKET" signed a memorandum of cooperation between industrial and scientific institutions of Ukraine and Poland, within which scientists, including experts KPI them. Igor Sikorsky plans involve the implementation of EU projects coordinated by Polish partners will perform.
Valery Barbash, Vice-rector by the scientific work