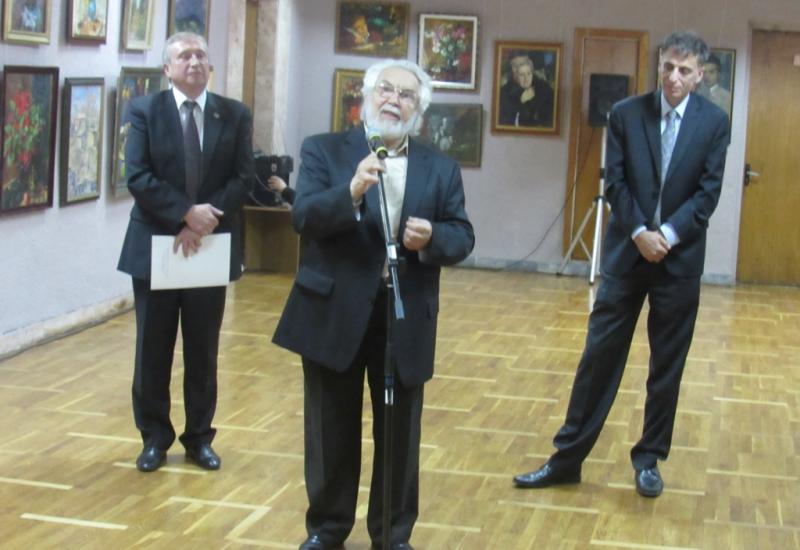 An exhibition of famous Jewish artist who lives and works in Ukraine, Herman Gold "Two nations - one hope" took place in the Art Gallery of the Center of Culture and Arts of NTUU "KPI" on May 18. "Israel and Ukraine live in similar conditions. No one except the peoples of our countries will help build the future of our dream. We have to build our own economy, we have to protect our own state, we have to build a beautiful countries, - said the rector of KPI, academician of NAS of Ukraine Mikhaylo Zgurovsky at the opening ceremony. - And in the works of Herman Gold the idea of similarities of destiny and hope of our two nations is clearly reflected. "
Artist's surname translated from Yiddish means "gold". It is seen as a symbol because Herman Gold's paintings have entered the golden fund of contemporary Ukrainian art. However, they remain highly national in attitude and tone. And even with some expressive means - due to some special, slightly dilute background of portraits and paintings, from which, as with the passage of time their heroes appear.
The characters of Herman Gold's works are old people and children whom he perceives with admiration, respect, tenderness, and sometimes - with irony; well-known scholars and writers; close people and conservative prophets; synagogue sextons and war heroes. Also there are many portraits of artist's mother. They were painted at different times and in different techniques, but always with great love and filial respect. Another important aspect of his work is landscapes: provincial towns, roads, bright spring mornings and the last days of autumn painted in gold warm.
"We have special relations with Ukraine. They are based on the fact that one of the largest Jewish communities was in Ukraine before World War II. Most of this community perished during the Holocaust. But before that Ukraine was a center of Jewish culture with a rich and diverse life, - said the Extraordinary and Plenipotentiary Ambassador of Israel to Ukraine Eliav Byelotserkovski. - So Herman Gold's pictures embody the common cultural heritage of Israel and Ukraine. Our common roots are in our past; in landscapes, imprinted on these canvases; in a life of small towns where Jewish, Ukrainian, Polish people and representatives of many other nationalities lived together. This past can't be revived, but it is important to remember it. These works allow us to feel the atmosphere of those times. «Herman Gold's outlook on the world is the outlook of wise and kind person whom you trust and listen. Therefore, those who has ever seen his works could hardly forget them. They are extremely melodic - so much that it seems that you can hear the melodious language spoken by residents of small towns that were once at the "Pale of Settlement", or sad or cheerful melody. By the way, among his characters there are a lot of people who dance, sing, play musical instruments. One of the most famous is old violinist in a service shirt with medals and in a Jewish hat on the painting called "May 9". It is also a portrait of a real person - his father-in-law...
"My close Ukrainian friend once told me:"We are different but we are not strangers! ". And it seems to me, is very important. We are not strangers to each other. Fifteen hundred years of life were not in vain! "- Said Herman Gold before attendees. And you convinced in it when looking at his paintings.
However it's better to see paintings, sketches and drawings of honored artist of Ukraine Herman Gold for yourself. It is very simple to do it now: an exhibition at the Center of Culture and Arts of NTUU "KPI" is open on weekdays from 10 to 17 hours. It will work until June 10.
Photo: Herman Gold speaks at the opening ceremony.