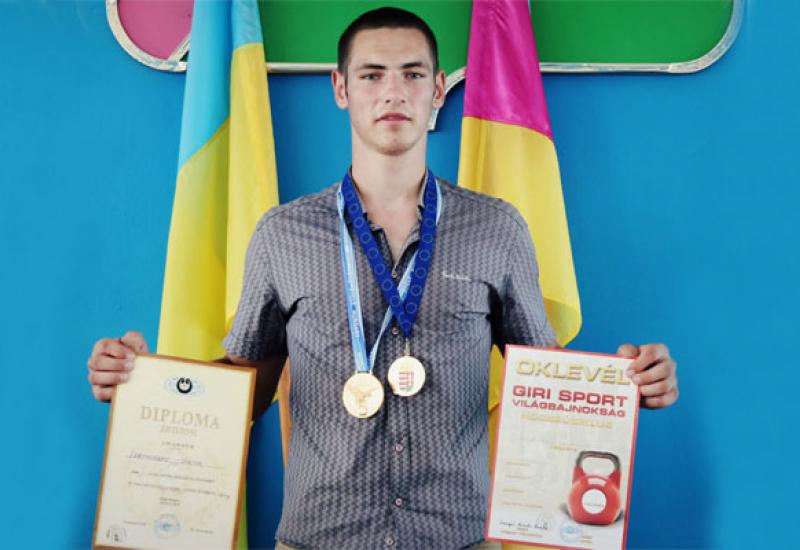 The world championship in kettlebell lifting was held in early July in Hungary. There were 19 teams, and over 300 participants took part in this tournament. Ukraine was represented by 30 athletes. The student of the KPI Victor Ivakhnenko, the winner, competed in the category up to 70 kg, according to version of "Juniors and students".  He can be called an experienced sportsman, because he was taken part in the World Cup the second time at the age of nineteen.
Victor said that he started training in 9 years, he was attracted by the opportunity to become strong and well-tempered, express himself, and having prepared himself good, he will show good results.
The way to recognition was not easy, the others not always understand, why he "carry so much hardware" on the training, because not everybody can withstand such a huge load. And boy was sure that it is better to spend time on the training than to lounge aimlessly anywhere. Also after school many "advisers" convinced him that he need to get a profession, that would give him the opportunity to finance a family and evolve in the future, as sport is too inexact and unpredictable occupation. And the guy decided to combine his hobby with the acquisition of professional knowledge and entered the Kiev Polytechnic on the faculty of Biomedical Engineering. He manages to join studies with successful performances on the different levels competitions.
Remembering the championship, man shakes his head sadly. There was the incredible heat. He performed at the temperature + 38 ° C, and it was required exceptional effort and concentration. It is difficult to show good results in such circumstances, some participants even were in need of medical care. But Victor did the impossible: he outran nearest competitor by 12 times (between the second and third place - only once).
Ahead there are new sportsman's appearances, where he also set to win. We wish him success and plan's realization.