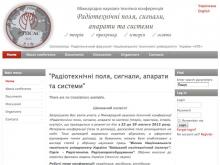 The founder and organizer of the International Scientific and Technical Conference "Radio fields, signals, devices and systems" is the Radio Engineering Faculty National Technical University of Ukraine "Kyiv Polytechnic Institute" (FRE NTUU "KPI"), which organizes its conduct and publication of relevant materials.
The conference is held once a year. Languages of the conference are: Ukrainian, English and Russian.
Participants may be citizens of Ukraine and other countries, who submitted according to the existing rules materials, which are relevant to the program objectives of the conference, and paid a fee in the prescribed by the conference organizers manner.
On the recommendation of the program committee and the desire of the authors presented results of scientific research can be published in a collection of scientific papers "Bulletin of the National Technical University of Ukraine" Kyiv Polytechnic Institute ". Series - Radio engineering. Radio devices", which is a specialized publication in technical sciences.
The purpose of the conference:
presentation and discussion of scientific and technological achievements;
contributing to strengthening the creative activity of specialists engaged in research, design, manufacture and operation of electronic devices and systems;
exchange of scientific and practical experience.
Conference Objectives:
creation of a discussion field for testing by specialists of received scientific, technical and practical results in radio and related industries;
facilitating the search for scientific and industrial partnerships;
Information of the scientific community about the latest developments on these issues.