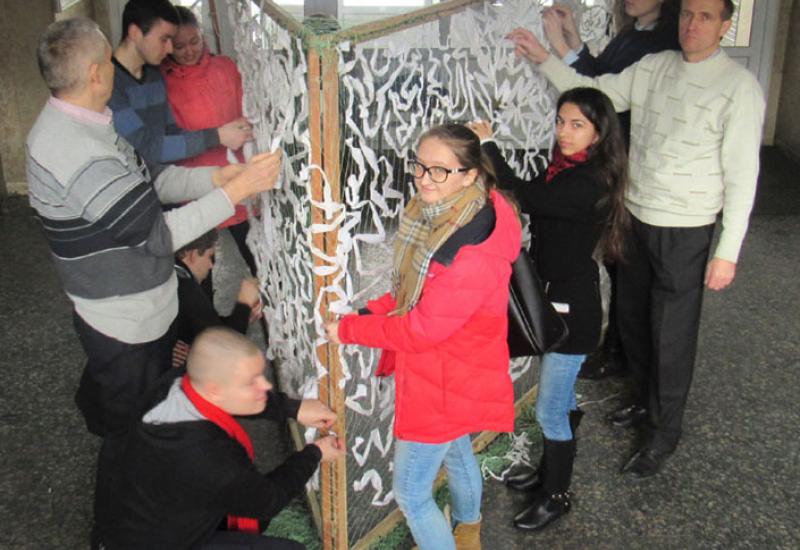 Anti-terrorist operation is still conducted in the east of Ukraine, and volunteers from KPI student try to help our soldiers. The deputy for headquarter practical arrangements, leading engineer of Educational-scientific complex «Institute for applied system analysis» Olena Beliaieva tells about the last news from "KPI Volunteer Battalion" headquarter.
Volunteer from Heat-and-Power Engineering Department Maksym Liashenko helped the wounded to prepare for entrance to education institutions at Java courses. Apart from that, he drafted out a proposition to make amendments to the law on ATO fighters entering higher educational institutions and passed it to one of the deputy groups of Verkhovna Rada for considering when drafting out corresponding draft laws. In addition, as last year ATO fighters were entering higher educational institutions under the standard procedure, the volunteers have paid with collected funds for 2.5 months of studying of one of FSL entrants (there was no state-funded place for him) while Ministry of Education and Science of Ukraine was solving the problem of transferring him to a state-funded place. Now, when this student has come back to the frontline and does not have comfortable conditions to prepare for exam week, volunteers send him necessary materials by e-mail.
Of course, same as before, volunteers visit the wounded at the hospital and give them all the help they can. They especially need materials, books for studying, and some help in familiarizing with software. Polytechnics also do not forget to help fixing hospital equipment.
In addition, "KPI Volunteer Battalion" members have started to help doing other activities. They are making scrims, winter camouflage suits and bracelets, which in a minute can transform into a rope, strong enough to support a man. A volunteer from the Faculty of Physical Engineering is finishing assembling a cheap remote-piloted quadcopter, which soon will be passed to one of units in the east of Ukraine.