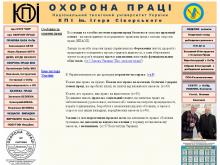 Address: Ukraine, 03056, Kyiv, Peremohy Avenue, 37, building 18, room 219
Telephone number/fax: (044) 204-95-82, 204-95-82
e-mail:  inform.office[at]kpi.ua
Occupational Safety and Health Department of Igor Sikorsky Kyiv Polytechnic Institute was established to execute the Decree issued on March 6, 1979 №21-N by the policy-making authorities and the principal of KPI. The department is aimed at organising the process of accomplishing socio-economic and medical and preventive measures aimed at people's life, health and ability to work safeguarding and accidents and occupational diseases in the course of work activities averting.
Occupational Safety and Health Department is the principal organization department of University in the area of health and safety.
Five employees work at the Department nowadays. These employees have higher technical education and long-term experience in the field of occupational safety and health and in their practice they follow Ukrainian legislation, regulatory legal acts, collective agreement and occupational safety and health acts applicable within the university.
Occupational Safety and Health Department is subordinate directly to the principal of the university. Liquidation of the department is acceptable only in case of liquidation of the university (Article 15 of the Law of Ukraine "On occupational safety and health").
Operative administration of the Department is exercised by the Vice-rector on scientific and pedagogical work.
The chief task of Occupational Safety and Health Department is to minimize the possibility of personnel's injuries or development of diseases and assure comfort and maximum working efficiency at the same time.
The main purpose of the Department is to implement European regulations, standards and values in matters of occupational safety and health, creating safe and healthy working conditions for the participants of educational process and enforce the workers' constitutional right to protection of their life and health.
Directions of the department activities in the resolution of safety and health issues are:
accomplishment of measures appointed by applicable regulatory legal acts;
effective implementation of innovative measures as the way of creating safe working conditions at the university;
execution of preventive work, rendering methodological assistance to organization departments in matters of occupational safety and health;
improvement of the occupational health and safety management system functioning;
cooperation with other organization departments on the issues of injuries prevention;
formation of occupational health and safety preventive culture and decreasing the probability of accidents in productive and non-productive spheres.