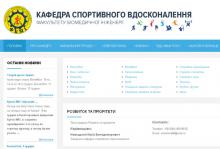 The department of Sports Improvement (SV) was formed in 1996, based on the teaching staff of general university department of physical education. The staff of the department includes teachers with experience in student sports.
The head of department senior lecture, candidate of pedagogical sciences Yuri V. Novitsky.
The primary importance of the department as a university academic unit is to provide students with the educational process on the section of physical education and conduct sectional work with students of sports section of education.
As well as: enhancing the functionality of the body, promoting a comprehensive harmonious development, quitting bad habits, improve mental and physical performance ; forming an opinion about the systematic physical exercise , physical self-improvement and healthy life , providing students with the necessary knowledge and skills in physical education for disease prevention , health promotion and enhancement of employability , mastering the methods of determining the physical condition and self-control , hardening of the body , improvement of students' sports skills.
Sectional educational and training sessions are conducted in football, futsal, men's basketball, women's and men's volleyball, sports aerobics and fitness, athletics, swimming, types of wrestling, boxing and kickboxing, weightlifting, arm-wrestling, shooting with the bow, rowing Academic, rowing and canoeing, triathlon, chess, Water poll.
During the period of the Department of educational work that reflects the achievements of top athletes university gained a new level.