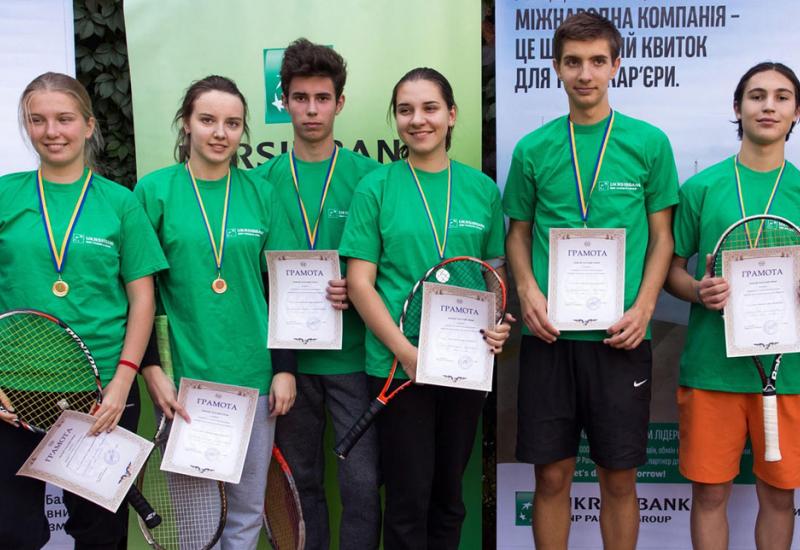 Autumn tennis tournament championship of Igor Sikorsky Kyiv Politechnic Institute, organized by professors of tennis department physical education Chair, took place on October, 5-7. 32 students from 14 faculties,  experienced last-year participants and freshmen tennis players fought  for victory. Despite autumn coolness, numerous friends and acquaintances gathered to cheer for fellows. Ukrsibbank BNP Paribas,which supported the tournament and helped to make it a holiday event, not only sponsors the most famous world tennis tournaments,but also holds Wearetennis Cup competition among its employees. University department of teaching and educational work provided help on organization.
Freshmen Andriy Demchyshyn (TEF) and Igor Kogytyak (FBMI) managed to show themselves in the first day of tournament. It became clear that Igor Besedin, Elizabeth Konstantinova, Oleksander Kibko, Volodymyr Venger, Glib Pidvashetsky and others are considered to be tennis stars team, and it has filled with new perspective players.
On the next days even players' parents visited semi-final and final meetings. Matches lasted  few hours and in the evening winners were chosen.
In men discharge the winner was Mykhailo Myravyov (PBF), 2nd place took Andriy Demchyshyn (TEF), 3rd- Igor Kogytyak (FBMI). The winner among girls this year was Elizabeth Konstantinova (FEA), who beated Oleksandra Kibko(FIOT) in final match. Olena Tretyak (PBF) took 3rd place.
The winners got diplomas and medals. They were congratulated by: senior professor of tennis department Iryna Byrlaka, main tournament organiser, Igor Stepanyuk from students' union and  Ukrsibbank BNP Paribas representative Tetyana Dzhymak.
But final matches for championship of Igor Sikorsky Kyiv Politechnic Institute weren't over on competitions. On Sunday, October,7, there were friendly competitions between students and tennis players of tournament partner - Ukrsibbank BNP Paribas, who were represented by D.V.Uvarov - head of IT infrastructure and business applications accompanying Department, O.Y.Nesterenko - head of IT infrastructure accompanying Centre, Y.O.Urbanas - leading specialists of retail business , Dmytro Shavalyuk - specialist of Centre of technology support and documents and project manager O.M.Denysenko.
In exciting matches both students and bank team demonstrated tennis talents and will to win. There was benevolent and friendly atmosphere, the tournament left pleasant impression on participants, fans and organisers. Finally, in the end of tournament program Ukrsibbank representatives congratulated students and gave them presents.