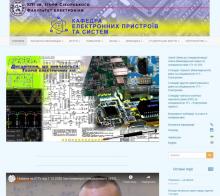 Electronic Devices department training specialists within educational research school "Physics and technology of electronic devices and information devices and physical and technical systems." Founder and initiator of department - Professor Vishnevsky A. In different years the scientific guidance of the Department provided by docent Semenov G., prof. Denbnovetskyy S.V. , and currently the department headed by prof. Pisarenko L.D.
On the basis of fundamental physics and mathematics, technology, circuit and special scientific training cycles Department provides multidisciplinary training for bachelors, masters and doctors, candidates for research, design, organizational and technical, scientific and teaching activities in research, design, production and operation of electronic devices and a destination. Under the new list of specialties department significantly expanded training of highly qualified and currently holds teaching and research activities toward "Electronic devices and systems". Expansion profile of graduates of the department in the scope of system science allowed form new teaching and research training programs for high qualification specialists. The Department is a leader in such scientific specialties: 05.27.02 - vacuum, plasma and quantum electronics, 05.27.06 - technology, equipment and production of electronic equipment.
Organize the structure of specialties in the field of electronics is accompanied by improving the department curriculum, strengthening the role of fundamental, legal and organizational and special research training in accordance with the Bologna concept, teaching and research university status, the needs of modern society.