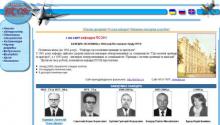 Address: KPI-1730, 37, Peremogy prospekt, Kyiv, 03056, Ukraine,
Phone: +38(044)204-8502
Faculty of devices and systems of attitude and navigation (PSON)
FACULTY IS BASED in 1960.
The initial name (till 1982) - " Faculty of gyroscopic devices ". Since 1961 the faculty has carried annual engineers promotion on speciality " Gyroscopic devices ", and since 1993 - engineers - on speciality " Devices and systems of attitude, navigation and control of three-dimensional motion ".
During its existence, the collective of the faculty PSON has prepared:
more than 1800 experts with higher education;
33 Cand. Tech. Sci.;
4 Dr. Sci. Tech..
Directions of scientific researches:
Research and development of algorithms and software for processing the information, the automated design of complex (difficult) engineering systems, control under the incomplete and inexact information about there state.
Creation of modern element base (solid-state wave gyroscopes, piezoelectric motors , magnetics elements, etc.) systems of attitude, stabilization and inertial navigating systems, development of algorithms and software of their correction.
Development of the equipment and algorithms of control and processing information of the computer complexes of technical and medical diagnostics.
The gauges of a magnetic rate created on faculty are widely used in aircraft; systems of active vibroisolation is good itself have recommended in development of ground systems of an initial setting; piezoelectric motors - in system engineering control by attitude of artificial satellites of the Earth; the complex of the audiometric equipment recommended for use in medical institutions of Ukraine developed and created on faculty.




Scientific publications

Total number of the scientific articles issued by employees of the faculty, - more than 600, including monographies - 16, patents of Ukraine - 5, copyright certificates - more than 120.

Competitions and exhibitions

The faculty showed the scientific achievements on international and industry shows in Helsinki, VDNH the USSR (1968, 1970 ), VNTTM (1972), Berlin (1973), " Public health services - 94. 97 ", "Medicon", " 8 medicine congress of Ukraine " (1995), expanded boards MOZU (1995-1996), "Interhospital-98" (Hannover, Germany). The student''s scientific works executed under the direction of teachers of faculty, have received 8 diplomas, 3 medals and 2 letters at All-Union and Republican competitions.

Methodological work

The faculty prepares: bachelors on devices
engineers on devices and systems of attitude, navigation and control of three-dimensional motion masters on devices

The faculty has four educational laboratories:

computer technologies (an educational class of the personal computer);
designing of elements and units of devices and systems;
gyroscopic and navigating systems;
systems of automatic control of mobile objects.

Teachers of faculty have prepared over 200 names of methodological grants (manuals) in total amount from more than 500 p.l., including 8 manuals and textbooks with a signature stamp of the Ministry of Education.