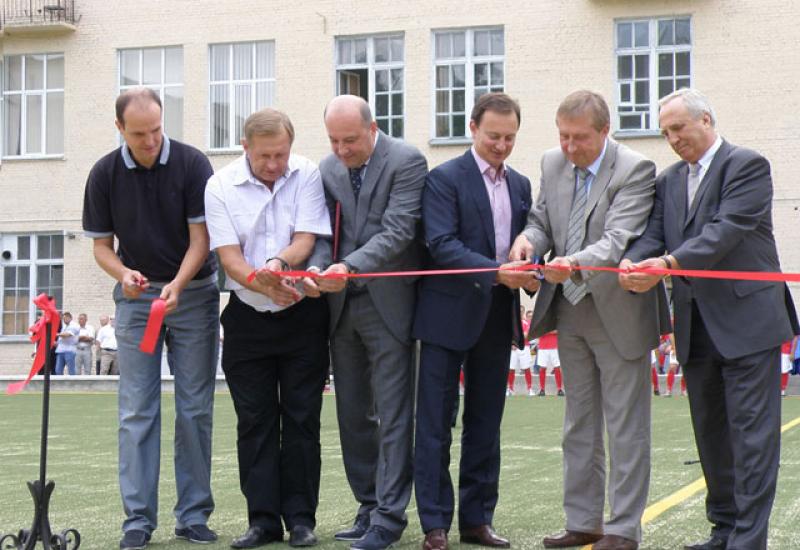 On the 2nd of September in NTUU "KPI" an unusual event took place. In the heart of the university campus the small core sports was opened – a stadium with artificial turf, where has already started the classes on physical training, organization of cultural events and athletes will be able to conduct training and competitions in football, athletics and other kinds of sport. There are the stands on the stadium, which contain 3,000 spectators. The next step is to set a modern electronic scoreboard. The sports ore is located not far from student dormitories, so there is no doubt that the polytechnics who admire sports, at their leisure time won't bypass it with their attention.
In the meantime, in the green field lined university leaders and distinguished guests: Chairman of the Physical Education and Sport Ministry of Education, Youth and Sports of Ukraine Vyacheslav Gamow, Deputy Chairman of the State Service of Youth and Sports of Ukraine Vadym Sysyuk, the Governor of Solomenska District Ivan Sidorov, deputy head of the Kyiv city organization of Trade Unions of Education and Science of Ukraine Alexander Trofimenko, council members and graduate of KPI Dmitry Andrievsky.
– It has become almost usual for me – to open new sports facilities in KPI every year. And this is very good, – said in his welcoming remarks Vyacheslav Gamow. – This means that the university not only takes care of learning, but also the health of students!
After cutting the symbolic red ribbon and the announcement of the Small sports core opened Rector of NTUU "KPI" Michael Zgurovsky awarded diplomas of the Academic Council, to that one without whom this event wouldn't take place - the chief engineer of the University Peter Kovalev, the head of RBC Production - Alexander Zaitsev operating plant and the head of machining station Production of University plant - Yuri Bogdanov. The thanks also got: the director of MPP "Riven" Leonid Yakovlev, the director of "Specialized management №630» Andriy Chupryna and a group of employees and production plant operating university.
Of course, the opening of the new stadium had to end some sporting event. And the organizations didn't deceive the expectations of numerous viewers. The football teams and veterans of KPI FC "Dynamo" appeared. The first kick on a ball made Rector Michael Zgurovsky, and then the real football battle started on the lawn. The first goal against Dynamo scored the teams of KPI, but then fortune turned against polytechnics. In an uncompromising struggle won the experience of professionals, known all over the world veterans of Kiev "Dynamo" won the veterans of Kyiv Polytechnic with the score 4: 2. However, there seemed to be no disappointed at loosing. This is the same case when they say "the friendship won." And, we add, the love to the sport. Moreover, with such a base, the team of veterans will be able to train harder and once to take their revenge on today rivals.