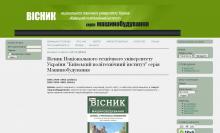 Journal of Mechanical Engineering acquaintance with the newest achievements in the branch of mechanical engineering, the results of scientific achievements and improved methods of calculation and planning of elements in mechanical engineering constructions.
For scientists and scientific and technical specialists in the branch of mechanical engineering.
Materials of the articles are presented in the release of authors. The articles are reviewed.
State registration certificate of the printed medium of communication series KB №17906-6756PR from 17.05.11
Founded in 1964
Periodicity: 3 times a year
ISSN 2409-5966 (Online) , ISSN 2305-9001 (Print)
Language of edition : Ukrainian, Russian, English, German (by the mixed languages)
Journal of Mechanical Engineering the National Technical University of Ukraine "Kyiv Polytechnic Institute" is included in the catalog of Ukraine.
Subscribe to it can be in local offices.
Address:
National Technical University of Ukraine "Kyiv Polytechnic Institute"
Address: 37, Prospect Peremohy, 03056, Kyiv-56, Ukraine
tel: +380 (44) 204-95-37
e-mail: visnyk-mmiх[at]ukr.net, vestnik_mmi[at]meta.ua