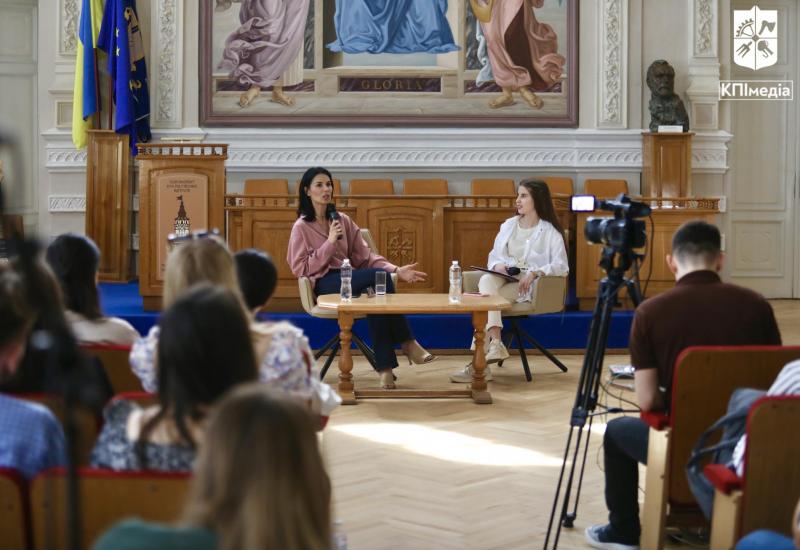 The Ukrainian TV presenter and public figure talked to KPI students about her student years, star disease and expectations from young people during the great war.
Two microphones, dozens of listeners, and a lot of questions. Maria Yefrosinina came to KPI for a public interview to talk to students and raise funds for her Masha Foundation. It takes care of women and children affected by the war. The meeting was moderated by Igor Sikorsky Kyiv Polytechnic Institute and the Yaroslav the Wise Faculty of Public Prosecution.
The YouTube blogger and honorary ambassador of the UN Foundation spoke about personal things: her first student crushes, the test of popularity, growing up, her husband at the front, and general things: self-realization, the role of every Ukrainian in the great war.
"Becoming a famous person at the age of 19 is a huge challenge. Your psyche is not yet stable, you are going crazy. It seems like you've caught God by the beard. But then there were so many falls, mistakes, and trials of fate that I have a natural vaccination against the so-called star disease. Perhaps I seem arrogant to some people now, but I am just very disciplined and demanding of myself and my team," Maria says.
She says that her favorite part of her job is everything to do with human resources, except for acting, because she didn't pay enough attention to development in this area at the time. However, this understanding of herself and her strengths did not come overnight.
"I was an extremely naive girl until I was a student. I had a great childhood: I was lucky with my parents, family, friends, and school. And then I came to Kyiv, moved into a dormitory, and life started to get tough. It was then that I realized that life is very tough. Adaptation lasted for the first few years. Every month I wanted to go home," recalls Yefrosinina. "A sense of self-confidence came with my first achievements, when I started working on television.
Mariia studied to be a translator and, despite the fact that she has worked outside her field of study all her life, she has no regrets about her education. Her knowledge of English has been useful throughout her career, especially since the beginning of the full-scale war, when Efrosinina regularly gave comments and interviews to foreign publications.
"What I can definitely advise everyone is not to quit studying," she says.
"Young years are the foundation for everything: when self-esteem is formed, you hit the ground running and push back. It's a period of heightened sensations. Everything is hard and painful, but you try again and again. However, despite the intensity of what is happening in your life, it is important not to give up on the war. You cannot turn on the "Dorie fish" mode and live outside the war. It is your responsibility to keep up with what is happening," Yefrosinina is convinced.
She adds that the younger generation was lucky to live outside the pressure of Soviet society, when they had to memorize Marx-Engels-Lenin to join the party. It's important to have freedom in all its manifestations and to learn from your own mistakes, no matter how difficult it is.