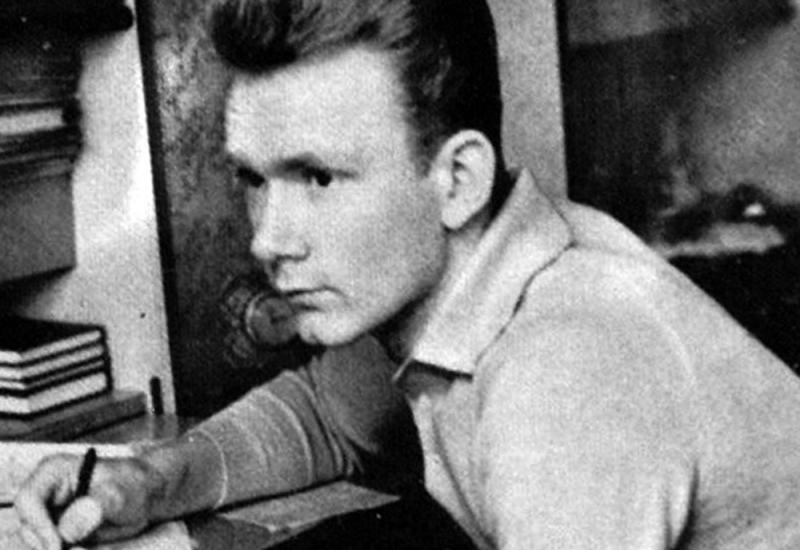 Valeriy Vasylovych Lobanovsky was born on January 6,1939 in Kyiv. At school he was one of the best students in the class and graduated from school with silver medal. Football in Valeriy's life became as important as science even then.  And even entrance to Igor Sikorsky Kyiv Polytechnic Institute and the following studying on faculty of Heat and Powerengineering didn't prevent him from his desire to play football.
      At his 19 Lobanovsky became Kyiv "Dynamo" player and continued to study in the institute.  As a player he was famous for his dribbling, skills of playing for attack and,of course, his excellent corner kick, which was called "dry paper".  He kicked the ball from the corner flag  to the nearest or back corner of football gate and practically always there was a dangerous situation for the opponent, which was often finised with a goal. No one USSR championship footballer could perform such corner kicks. In player rank Valeriy Lobanovsky with Kyiv "Dynamo" became a champion and silver USSR  prizewinner and at once- Soviet Union Cup owner.
Lobanovsky's coаch career started in Dnipropetrovsk, where he has been coaching local "Dnipro" for 5 years. The team with him got through the union higher league, and took honourable 6th place in the first season, which meant all players getting Master of Sports ranks. So, that is how Lobanovsky coach career has started.
In 1974 Valeriy Lobanovsky was invited to be the main coach in Kyiv " Dynamo" , he together with Oleh Bazylevych created a main coaches-soulmates duet. And the result appeared right away - in 1975 coach Lobanovsky was well-known in the whole Europe. Under his leadership Kyiv "Dynamo" won second the most prestigious European club trophy - a Super Bowl. And they beat on match Munich "Bavaria" under the leadership of Franz Backenbauer. Thay managed to do it again- in 1986. In the same year Valeriy Lobanovsky led USSR national team in World Cup in Mexico,where the team lost to Belgium in 1/8 final only because of  referee blunders.
On the next forum (1988, European championship) USSR national team under leadership of Vasylovych, as he was called by "Dynamo" players, lost to Dutch only in final match. In the Dutch team at that time there were excellent players Gullit, van Bastien, Rijkaard. It's worth mentioning,that in his coaching Lobanovsky has used math calculations, explaining the match productivuty with math language - that methods weren't used in USSR.
During Lobanovsky's coaching Kyiv "Dynamo" became USSR chapions eight times and Cup owner- six times. No one of other  USSR coaches ever has such an impressive track record.
In 2009 according to World Soccer  magazine Lobanovsky was one of 50 best world coaches of 50 years (1959-2009)
* * *
We have found a publication in "Kyiv Polytechnician" newspaper, dedicated to Lobanovsky, which was published by Igor Sikorsky Kyiv Polytechnic Institute newspaper "For soviet engineer" N41-42 from 06.11.1961 :
"  Hi to Valeriy Lobanovsky!
  Our third-year student of faculty of Heat and Power engineering of our university Valeriy Lobanovsky is now world well-known one, and one of the best Kyiv football "Dynamo" team player of "A" class, which has recently got honourable Soviet Union champions rank.
Numerous fans of our medal-carrying university sincerely congratulate Valeriy Lobanovsky with outstanding sport victory of Kyiv "Dynamo" players - gold medals owners .
So,dear friend, good luck in studying and the following football matches and,as it is said, break a leg!
By the order of Igor Sikorsky Kyiv Polytechnic Institute football fans - metallurgic faculty student V.Kyzmychov".