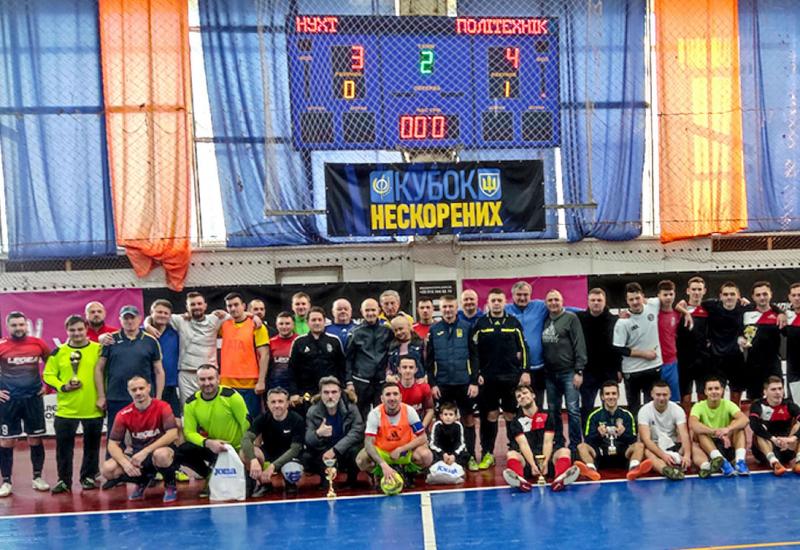 A Christmas futsal tournament for the University Trade Union Committee Cup is held in the sports complex of the Igor Sikorsky Kyiv Polytechnic Institute at the beginning of January for many years in a row.  It opens the futsal year in the capital. The composition of the teams participating in this competition remains practically unchanged. However, new teams also appear, and this adds unpredictability to the rivalry.
This year the tournament took place as well despite the war, air raids, and blackouts. It was dedicated to the defenders of the Motherland, who safeguard our independence from the russian invaders. Therefore, its main trophy was named "Cup of the Indomitable People".
The tournament began with holding a moment of silence to commemorate those who died in the war, and playing the National Anthem of Ukraine.
Six teams participated in the main prize contention. After lotting, they were divided into two groups. The teams "NUFT", Futsal Referees Team, and "KPI Employees" met in group "A"; in group "B" there was a tough struggle between the teams "Polytechnic", "Slavutych" and "Studprofcom". After group matches, the top of each group - "NUFT" and "Polytechnic" - made it to the finals. In the matchup, the main time did not reveal the winner - 1:1, and only a penalty shootout determined the champion: "Polytechnic" won with a total score of 5:4.
Further places in this tournament were distributed as follows: 2nd place - "NUFT", 3rd - "KPI Employees", 4th - "Studprofkom", 5th - "Slavutych", 6th - Futsal Referees Team.
During the Cup of the Indomitable People Tournament, an opinion poll was held among fans and participants. According to its results, Oleksandr Shapovalov ("Polytechnic") was designated the best goalkeeper, Serhii Pichevskyi ("Polytechnic") was designated the best scorer, and Vadym Stepaniuk ("NUFT") was designated the best player.
Participating teams thanked the founder of the tournament, Serhii Zhuravliov, the Senior Lecturer of the Department of Health and Sports Technologies, for the invitation and the excellent organization of the tournament.
Positive communication, a competitive spirit and, of course, futsal in all its glory - with stormy emotions and uncompromising struggle were traditional attributes of the tournament!