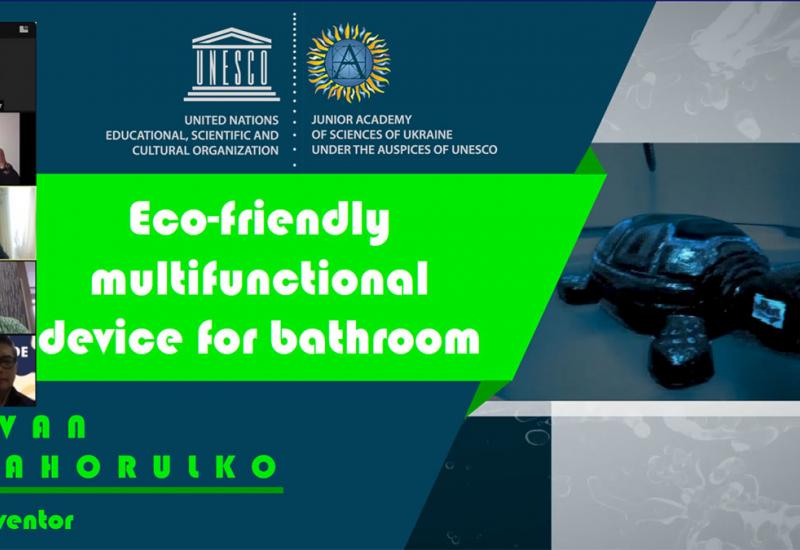 Ivan Zahorulko, a student of the Faculty of Radio Engineering, developed a gadget for household needs that enables the remote monitoring and management of home temperatures, use of water and water level, and helps in bathing a child, etc. The young inventor presented it at the 7th International Young Inventors Awards (IYIA) 2020 in Indonesia. Ivan's project "Environmentally friendly multifunctional device for the bathroom" won two awards at once: a gold medal and a prize for the best environmental innovation.
15 countries of the world presented their innovations in the competition. The competition took place in several stages: a preliminary stage (submission of project thesis), full research work and a final stage (a 5-10 minute online presentation in English before the international jury).
The idea for the project came to the innovator while studying at the Junior Academy of Sciences of Ukraine. Then the young inventor noticed that there is a lack of multifunctional devices for the bathroom among smart home gadgets. As soon as the prototype was created, it became obvious that the device helped solve much more problems than expected.
'Today I focus on bringing my new gadget to market; I started working with a startup school "UF Incubator" supported by JASU and UNESCO. I am working out the business model, marketing and financial part, and I am consulting with the incubator's mentors and improving the invention.' Ivan shares.
Previously, the student of Igor Sikorsky Kyiv Polytechnic Institute received awards with his device in Poland and Canada, won gold medal at ITEX 2020 – 31st International Invention, Innovation & Technology Exhibition, Malaysia and was invited to the New York competition GENIUS Olympiad 2020, which, however, was postponed due to the COVID-19 pandemic.
'These are significant competitions personally for me, because, firstly, I will submit it to an international jury, secondly, it is an opportunity to show the innovation to the whole world and potential investors and, thirdly, to present Ukraine as an intellectual country,' says the inventor.