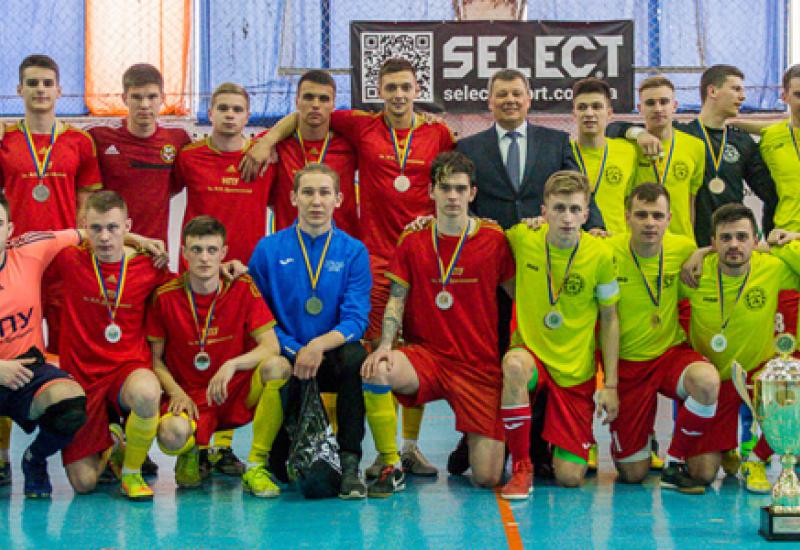 On Apil 19th, at the Center of Physical Education and Sports of the Igor Sikorsky KPI was a final match for the Kyiv Futsal Cup among the student teams, where the champion and vice-champion of the outstanding league – a team of the National Pedagogical Dragomanov University and Polytechnic team of the National Technical University of Ukraine "Igor Sikorsky Kyiv Polytechnic Institute'' – met each other.
This year the top sixteen university teams fought for the title of the owner of the Futsal Cup. In the intense struggle which lasted on the futsal ground until the last seconds of the match, the Polytechnic players won with a score of 2:0.
After the game, President of the Kyiv Student Association Vadym Misyura thanked the fans who created a fantastic atmosphere at the stands: "We managed to join the efforts of the representatives of state authorities, higher education institutions, and Kyiv sport community as well as student efforts to promote sport among young people of our country. Nowadays it is very important to pay a lot of attention to the self- realization and physical activity of students who choose a healthy lifestyle for themselves".
The event became the culmination of the entire futsal season which was marked by approximately 150 matches. So it was attended by more than a thousand representatives of students, heads of universities, Kyiv sports community, state authorities, and mass media representatives.
The official partner of the Kyiv Students Football Association (KSFA) is TM Parimatch.
The partners of KSFA are the OJSB "Ukrgasbank", Ukrainian Insurance Group, and All-Ukrainian Football Association of Students.
The general information partner is XSPORT.
The information partner is SPORT.UA.