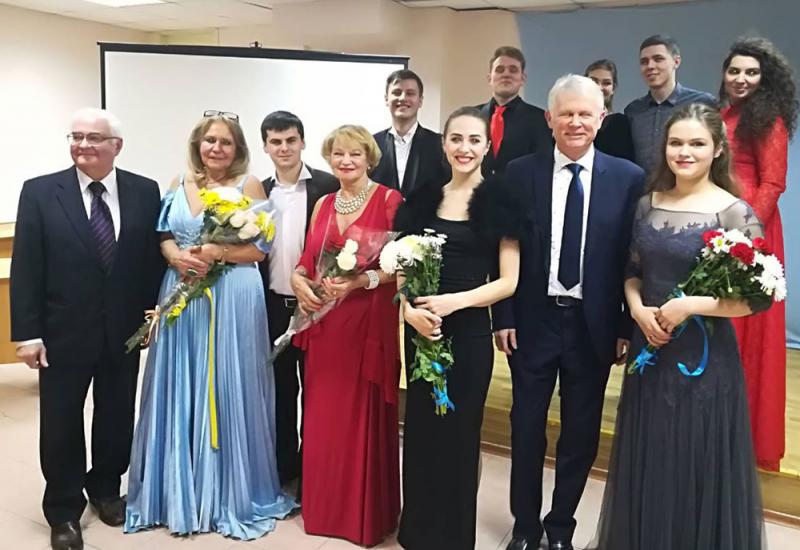 An ordinary meeting of Deputy Deans of the Igor Sikorsky Kyiv Polytechnic Institute has turned into a real opera performance!
All this was owing to the invitation of Department of Educational Work for bright talents from the National Music Academy of Ukraine named after P. I. Chaikovskyi to visit our university. We are very grateful to Olena Skytsko, Volodymyr Derun, Inna Kalugina, Vladyslav Fomin, Sya Shulya, Ruslan Solonenko, Vladyslav Buialskyi, Bogdan Hut, Volodymyr Tyshkov, Anastasiya Osinena and Maria Antoniyevska, who pleased the staff and the guests of KPI with bright and exciting performances.
The repertoire was quite rich and diverse. We could hear both Ukrainian folk songs, Frank Sinatra's original compositions and arias from the operas "Zaporozhets za Dunayem", "L'elisir d'amore", and "Natalka-Poltavka".
An interesting fact: the age of students who performed did not exceed 20 years. And this does not prevent young stars from touring the countries of Europe, and some of them even have been the soloists of the Italian opera! Artists say that each of them has very ambitious plans concerning their creative path. And it is not for nothing, so as everyone can see that a great future is waiting for these talents!
This is not unexpected, so as students work diligently every day under the guidance of a famous specialist Svitlana Petrivna Hlukh. She is not only a professor at the conservatory but also a People's Artist of Ukraine and a leader of the All-Ukrainian Art Project "New Names".
At the end of the concert, a special guest, People's Artist of Ukraine Lyudmila Semenenko appeared on the stage. She impressed the audience with brilliant performance of such famous ukrainian compositions as "Ridna maty moya" and "My pidem, de travy pochyli" (words by Andriy Malyshko, music by Platon Maiboroda).
At the end of the concert, Lyudmila Fedorivna sang a favorite song of all the inhabitants of the capital – "Yak tebe ne lyubyty, Kyieve miy!" Her touching performance has broken tears in the eyes of many spectators.
It's not the first time that these young artists perform for our audience and they are good friends of the university. During each visit, they accept sincere and stormy applause from our listeners and they admit that to perform for KPI audience is a great satisfaction for them. It should also be noted that this feeling is mutual, and we are looking forward to their future performances in the walls of our native KPI!