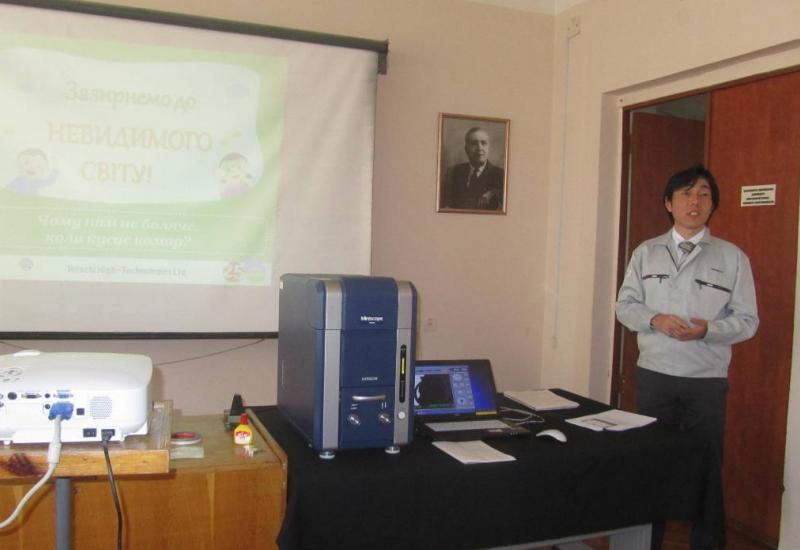 On 25 May, in National technical university of Ukraine "Igor Sikorsky Kyiv polytechnic institute", representatives of "HITACHI High-Technologies Corporation" Tomomi Okada and Atsushi Hama presented electronic microscope "Hitachi Tabletop Electron Microscope TM3030" and delivered two lectures or to be more exact two workshops on its application.
Extraordinary and Plenipotentiary Ambassador of Japan to Ukraine, Sir Shige Sumi took part in the events since they were hold with the assistance of Embassy of Japan to Ukraine in terms of program of Year of Japan in Ukraine.
Apart from representatives of Japan and students of Faculty of Physical Engineering, pro-rector for international affairs of the university, correspondent member of Ukrainian NAS Sergii Sydorenko, head of Department of physics of metal of IFF Yevgen Ivashchenko, director of Ukrainian and Japanese Center of Igor Sikorsky Kyiv polytechnic institute, Kateryna Luhovska and others took part in the first lecture.
Second practical training was hold for school students – members of Small Academy of Science and the head deputy of National center "Small Academy of Science of Ukraine" Tetiana Peshcherina delivered an inspiring speech for them. Peculiarities of mosquito structure and application of these peculiarities in medicine, water-repelling characteristics of lotus leaf that is used as a foundation of many products with water-repelling characteristics – foil cover for yoghurt, umbrella etc. All those present were able to see under the microscope the difference between sugar and salt crystals and structure of poplar wool.
Atsushi Hama who gave demonstration lesson expressed his admiration of the interest and level of knowledge of Ukrainian listeners and Tomomi Okada stressed that he hopes for further cooperation.
The photo of Atsushi Hama talking about application of «Hitachi Tabletop Electron Microscope TM3030»