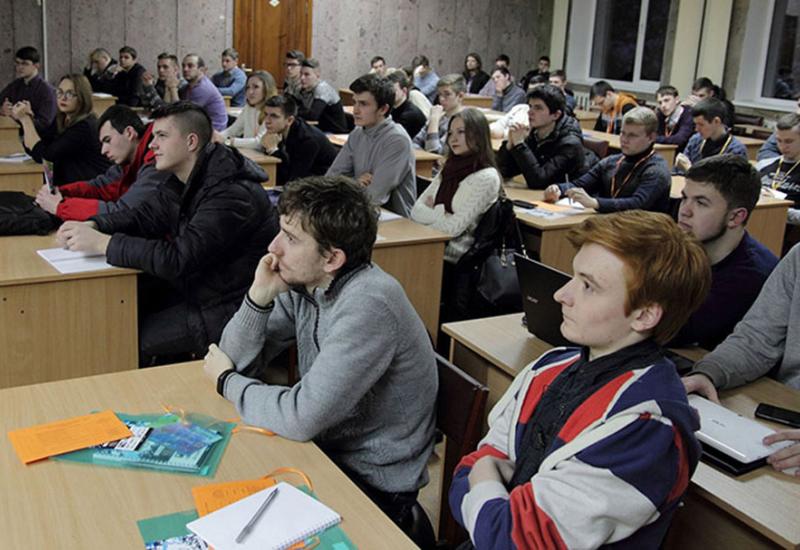 Startup School "Sikorsky Challenge" (Vinnitsa) was opened in December 2016 at the Technical University of Vinnitsa, and in February 2017 - Startup School Azov State Technical University (Mariupol). Everyone chooses the way: to become a good specialist and work from 9 am to 6 pm and then go home .. if boss permits. Or choose another way: to design idea, find like-minded team and create his own company - initially small but innovative. Students should realize what life offers us in order to find out what they really want. Today there is a freat choice.
Really, today in Ukraine there is a good choice. A powerful network of startup schools was created on the basis of regional universities at the initiative of Kyiv Startup School "Sikorsky Challenge". Here creative youth acquires advanced knowledge of innovative entrepreneurship. Knowledge that is not only immediately translated into business projects, but also determine the future path of talented youth.
The first Ukrainian Startup School "Sikorsky Challenge" based on KPI n. a. Igor Sikorsky started on 19 February, 2014. "Khreschatyk was on fire, everything was blocked. We were shocked by the events and suggested that  22 potential" students " would not come. But  18 students came, some from Maydan- and it is without exaggeration. It was symbolic – to start such project in such difficult times. Later the first drafts, which were  seven, became successful. Two of them received two rounds of investment. Therefore, the main thing is the desire "(Inna Malukova, the head of startup school "Sikorsky Challenge ").
A lot of projects started by our graduates were realized. In particular, the project "Multyvizor Wider" - modular projection monoblock with media server, acoustics and large panoramic screen included; Project "Emotion tracker" - a bracelet gadget that monitors the health of older people, service for fast learning of Foreign Language "8words"; invention "CamTouch" to transform any surface into an interactive; device "Luciding", which allows you to control sleeping man, and other inventions. The names of our graduates are known now not only in Ukraine - Lisa Voronkova, Anton Halyashynskyy, Mychaylo Skrychevskyy, Maxim Lyashenko, Natalya Sherimbetova, Andriy Konovalenko, Oleksiy Oleinik and others. During 2016 the leaders of our startup school were working on the problem - how to give the residents of other cities of Ukraine an opportunity to get the necessary knowledge of innovative entrepreneurship. There were a lot of people, but there was no opportunity to attend 2-month course. We decided to open startup schools in different regions of Ukraine. And not only open, but also prepare trainers for innovative business methods and software startup school "Sikorsky Challenge".
In autumn 2016 in Startup School "Sikorsky Challenge" along with training of students for the program "Introduction to Innovative Entrepreneurship" training for future trainers was held. We were visited by representatives of many universities in Ukraine. And in December 2016 on the basis of Vinnytsia National Technical University we opened a second school Startap- "Sikorsky Challenge". The first 70 students who have passed a serious selection began training Feb. 7, 2017. The training will last until June, and in October the best graduates will be able to participate in the project competition, get advice and financing for your startup. Project of Vinnytsia startup school is developing with the support of the Vinnytsia regional state administration, Vinnytsia City Council and leading technology and IT companies in the region. 'Startup School - a new format in the study, which focused on the future - says Head of School, Head of Training and Production Integration NTB Konstantin Koval. - It will promote the comprehensive development of personality of students and sector development of innovative business winery. I am convinced that the existence of this form study in the Vinnitsa national technical University jointly with leading local business companies is a sign of deep understanding by all stakeholders of the importance of forming highly intellectual final product with significant added value. " The third in Ukraine startup school was opened on 28 February, 2016 in Azov State Technical University (Mariupol). It is also a joint project with the startup school "Sikorsky Challenge". Organization of the school and support for the project is provided by the US Agency for International Development USAID. The 1st session has already passed, where everybody who has a  worthwhile idea and seeks how to turn it into a successful business took part. The learning process be held according to methods and programs of Kyiv Startup School "Sikorsky Challenge" and will include the following stages: introduction to innovative business, practice of startup and work with potential investors. Chief Mentor and coach of the network startup schools in Ukraine - Igor Peer. He is the founder and general director of Open Innovation Incubator Be Next IT and co-founder of  innovative ecosystem "Sikorsky Challenge". At the opening of the Vinnytsia and Mariupol startup schools, he stressed that since work on the creation of startups, even if the first is not successful it means that  people should not stop and do the second, the third. "Only the  strongest survive. And prevailed not so much by intellectual qualities, but by perseverance, communicative, ability to recover from failures and restart all over again. Young people are released from one project and then come to show that they are new. And I see strong businessmen, they have a new idea at a much higher level, and I feel like partners with them, who have something to learn me. They already have the experience that I have not. This synergy is very important. It occur between themselves and the audience. It is very interesting and effective. And all of us who are involved in the building of Ukraine's future innovation, we believe that we all get along the way. We wish our colleagues in Vinnitsa and Mariupol interesting ideas and projects, perseverance and luck! And waiting for your graduate to the next festival "Sikorsky Challenge", which will be held in October 2017 in KPI them. Igor Sikorsky.
See you!