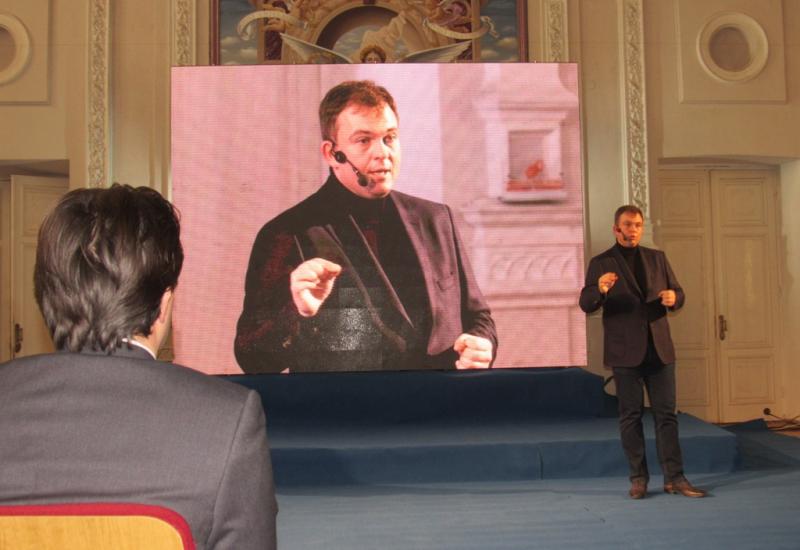 On 22 December, a.i. director of State Enterprise "National power energy company "Ukrenergo", Vsevolod Kovalchuk delivered an open lecture "Smart Energy to/for Everyone" to power engineering students of Igor Sikorsky KPI.
SE "NEC "Ukrenergo" is a state unitary enterprise of power energy field that operates as state commercial enterprise. It was established as state-owned property under the control of Department of Energy and Coal Mining and is vertically integrated natural monopoly in the field of power energy transmission. And its main tasks are: centralized operating and process management of United Energy Systems of Ukraine for reliable, parallel operation of heat, atomic and hydraulic power stations of Ukraine, united by main power transmission lines; integrity of United Energy Systems (UES) of Ukraine; balance between production and power energy consumption in our country etc.
Meeting with students was hold on the occasion of Power Engineer's Day of Ukraine. So, opening the meeting, rector of the university, academician of Ukrainian NAS, Mykhailo Zgurovsky congratulated everyone on this celebration and reminded that Igor Sikorsky KPI is directly related to it. "We can speak a lot about the contribution of Igor Sikorsky KPI into development of power engineering, stressed rector. Modern achievements in the field of power industry are greatly connected with work of our scientists and graduates. We trained over 1000 specialists only for "Urkenergo". Over 500 engineers that work for business system had professional retraining. Over the last years we did 15 comprehensive scientific and research pieces of work for "Ukrenergo". But in the process of discussion issues of our cooperation we concluded that our reserves are not exploited yet. That's why we have meeting today that laid foundation of new stage of our cooperation".
Lecture of Vsevold Kovalchuk started in rather extraordinary way: he reached the center of the room of Academic Board of the university by segway accompanied by applauses of the audience. Balancing on this two wheeled electrical vehicle, he started his speech about reforming and perspectives of national power energy field in the nearest future. This segway became an example of its position about new "green" transport (the question was not about segways but about electro mobiles) that has already started pushing out traditional automobiles in the East and can be seen in the streets of Ukrainian cities.
However, this is only the one trends in technologies development, power energy industry, in particular. It shows global drift towards application of electrical energy in all fields of our life. At the same time, "green" or in terms of west terminology, "blue" power energy takes priority. "I am absolutely sure that trends towards development of "green" generation is unreversable. Let's say 30-40 years and electrical energy from clean sources will take 80-90 % of the whole energy balance, sated Vsevolod Kovalchuk. What is more, according to him, at the beginning of current year, a fraction of energy recovered at the expense of "green generation" exceeded for the first time a fraction generated at nuclear power plants of the whole world and in Europe at present nearly 20 % of electrical energy is "clean energy"- energy of wind, sun and partly energy of water.
Judging from world tendencies of electrical energy development, power energy industry has to develop in Ukraine. Currently focuses in its management are shifting towards management by demand. 80% of demand has to be regulated and managed automatically, states manager of "Ukrenergo". Nowadays, the instruments of such management are already known and they started to be used in countries with high-technological economics such as Denmark or Japan. Transition to such a system has to be a target for Ukrainian power engineers. Thus, strategic tasks are to provide management of consumption time; management of consumption volumes; opportunities for consumers not only to save electrical energy but also make some profit.
Vsevold Kovalchuk also told how to achieve it. First of all, there have to be powerful information and technological structure, clear networks. And particular legislature as well.
Director of State Enterprise "NEC "Ukrenergo" revealed some information that stays behind the logotype of the company and in its entire new corporate style.»We want to forget that our country associates with something old, cheap and poor. We want to have a powerful, modern company", he stressed. Thus, the letter "U" of our new logotype stands for the name of our country-Ukraine; "E" means tendencies: "green" or "blue" energy. Together "UE" - "Ukrenergo".
Vsevolod Kovalchuk said also about his vision of cooperation lines between company and university. These are implementations of scholarship for the best power energy students- they will be assigned on the basis of "the best of the best" competition; "incubator of ideas" - a ground at the enterprise where the best projects of particular topicality will be presented, evaluated and cultivated; development of electrical energy course for non-specialists.
In the end, manager of SE "NEC "Ukrenergo" answer questions asked by polytechnics. It is worthy to note that not only students but teaching staff as well asked questions.
After the lecture, Vsevolod Kovalchuk and Mykhailo Zgurovsky signed a cooperation memorandum between SE "NEC "Ukrenergo" and the university.
[22/12/2016] Open lecture of SE "NEC "Ukrenergo" manager Vsevolod Kovalchuk

In December, 22 at 12.30 in the meeting room of Academic Board of Igor Sikorsky Kyiv polytechnic institute with the address at Peremogy avenue, 37, an open lecture of "NEC "Ukrenergo" manager Vsevolod Kovanchuk will take place!

Would you like to know what do drones, electro mobiles, mega accumulating units and Ukraine have in common? Have ideas and want to implement them? Dream about becoming a part of innovators team?

Attend an open lecture and become a part of great changes in power industry!