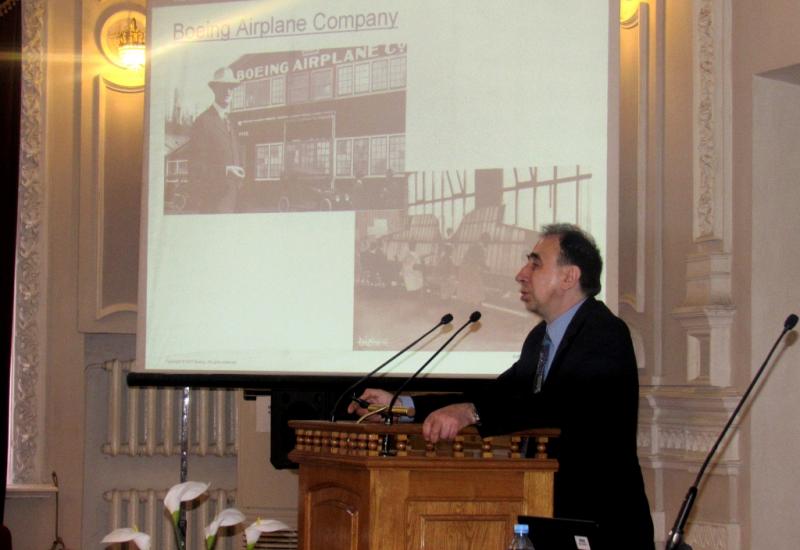 Lecture on the "Boeing" company history in the framework of educational program for students "Aviation from A to Z" took place on 22th September in Igor Sikorsky KPI. The lecture was devoted to 100 anniversary of the company. The lecture was delivered to students of Mechanical and Engineering Faculty and Faculty of Space and Aviation Systems by the resources, engineering and technical development manager of «Boeing" Construction Center, Mykhailo Savchenko.
Now "Boeing" is one of the largest Aviation and Space Corporation in the world with market capitalization of over $80 billion, 165 thousand people operating in 65 countries of the world. "Boeing" corporation is a leading manufacturer of civil and military aircraft vehicles as well as defense, space systems and security systems. It cooperates with USA governments and friendly countries as well as aviation companies of more than 150 countries. 
Everything started with the first flight of one of two hydroplanes "B&W", designed by William Boeing with the help of navy engineer George Conrad Westervelt in June 1916 in Seattle. A month later, in June, 15 "The Pacific Aero Products Company" that specialized in aircraft manufacture and was named as "Boeing Airplane Company" in May, 9, 1917 was registered.
The story of "Boeing is the story of success. As any other success it was a result of desperate search, experiments and hard work. Herewith not only the work of company founders but thousands of people that became one team being able to work for a result. Lecturer spoke about the way that started with the first wooden biplanes of "Boeing" company to super modern passenger aircrafts, with "Boeing-787"-well known "Dreamliner" being the best in this range as well as some perspective company projects in the field of civil aviation. His speech was supported with demonstration of few video rolls that showed not only company products but the work of assembling shop, where new aircraft Giants started to emerge.
In the end, Mykhailo Savchenko answered questions asked by students. One of the first questions was about opportunities for polytechnic students to have a practical training in the Ukrainian company representation office. Owing to the fact that representation office is currently developing in the line of cooperation with "Progresstech-Ukraine", actively works the university, the answer was quite positive.