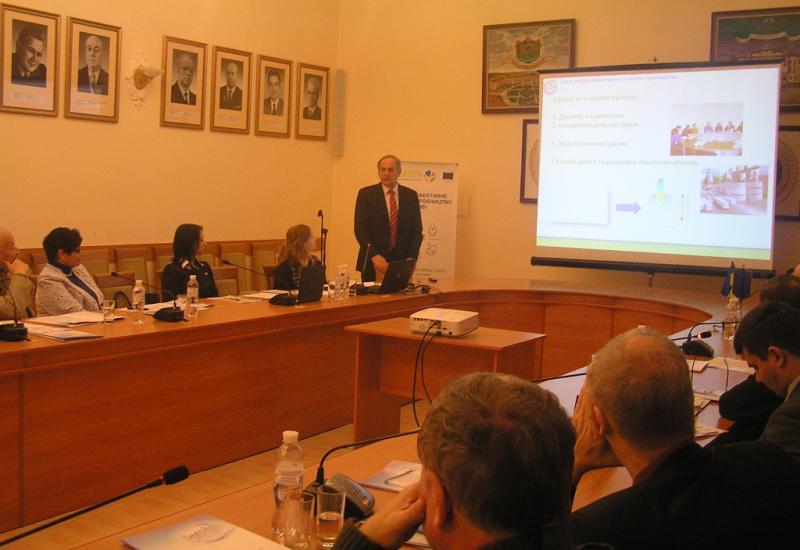 Current problems of power supply of industrial manufacturing were placed for consideration at forum "Resource effectiveness and clean manufacturing: power efficiency (RECM)" that took place at NTUU "KPI" on November, 6th.
Forum was organized by the Center of RECM whose founders are Ukrainian union of entrepreneurs and NTUU "KPI". Industry representative, members of transport organizations, small and medium businesses, community organizations, science, education and state authority.
The forum was organized within Demonstrational Component of UNIDO program "Integration of ecology into economies of East Partnership Countries of EU" (EaP GREEN).
The purpose of the program is to support of member-countries in their transition to "green economy" and stimulate "green business". Its participants are 6 countries of EaP of EU: Azerbaijan, Armenia, Belarus, Georgia, Moldova and Ukraine. The program is funded by European Commission and other donor-countries and is realized with the common participation of international organizations: European economy commission of UNO (EEC UNO), Organization of economic cooperation and development (OECD), United Nations Industrial Development Organization (UNIDO) and United Nations Environment Program (UNEP).
Participants of RECM not only discussed power problems of industrial enterprises and methods to solve them but also shared their experience, considered the questions of expansion, promotion and integration of methods of resource efficient and clean manufacturing in Ukraine.
The discussion was also related to the issues of integration of methods of resource efficient and clean manufacturing and other measures to increase efficiency of power resources consumption in to small and medium businesses.
All participants received guidelines called "Approaches and practices of resource efficient manufacturing" prepared by colleagues from the Centre.
These should be 6 theme forums in total. Besides questions discussed, there will be more issues of efficient use of materials, water, treating of waste, reduction of volume and clearing of gray water.