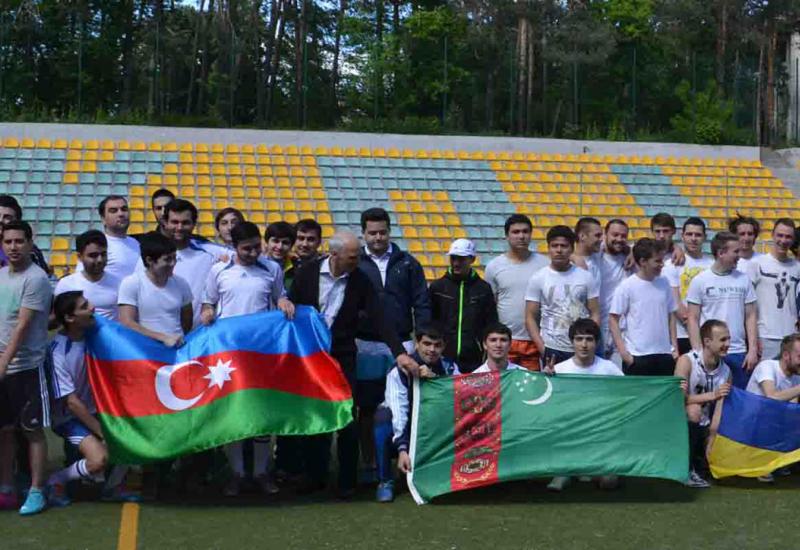 Football tournament among foreign and Ukrainian students of our University was held on May 16-23, with the support of the Student Council, the Council of presidents of the fraternities and the Directorate of the Center of international education of NTUU "KPI". On football fields met 10 teams: teams of Azerbaijan, Vietnam, Ghana, Ecuador, the Congo, China, Turkmenistan, Turkey, Ukraine and collected team of campus №31.
From the first minutes of the competition it became clear that there is no weak places among the participants and to become a winner you will have to exert a lot of efforts. Every match was exciting and interesting, and near the football field were appearing more and more fans. The tournament was held in a friendly, cosy atmosphere. None of the teams have played in half of their forces. Desire and will to win showed a lot of bright game moments, honest men fight and undisguised desperation from unused chances.
The teams were divided into two groups: group "A" – teams of China, Turkmenistan, Ukraine, Ecuador, Congo; group "B" – teams of Ghana, Azerbaijan, Vietnam, Turkey, the command of the 31st campus. According to the results of the first phaseteams from Turkey and Ghana (group "A"), Congo and Ukraine (group "B") went in the half-final .
The final matches of the tournament took place on May 23, 2015 Until the last minute of the game it was not clear how teams will be placed in the table, the intrigue remained until the final whistle. In a tense battle the teams of Turkey and Ghana went to the final. For third and fourth place competed teams of Congo and Ukraine. This fight won Congolese with the score 2:4.
The final has delighted the fans with skilled football game of both teams. But main time did not reveal the winner. Even in the shootout teams played showed good result so judges decided both teams deserve second place, and first and Cup to leave for the next year.
After the competition end there took place solemn rewarding of participants of tournament with medals and certificates. Director of CIE of NTUU "KPI"V.O.Koval thanked the participants for the game and wished everyone peace, harmony, health and sporting achievements.