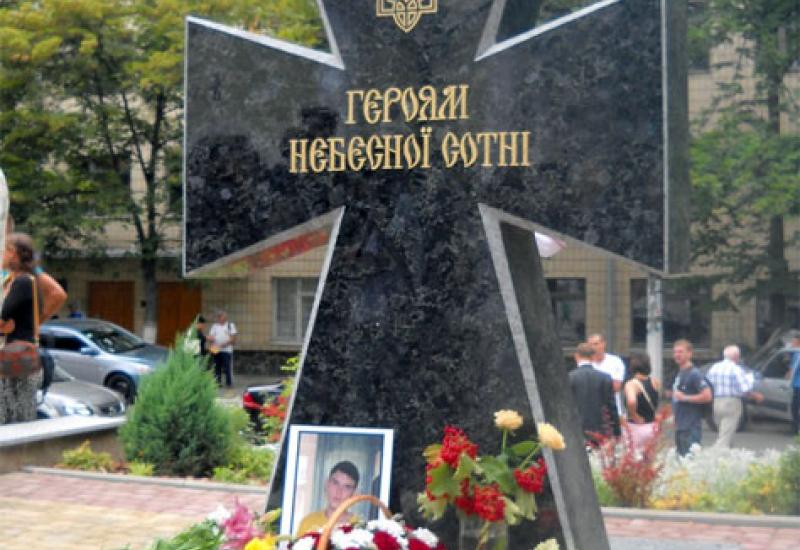 A monument to the Heroes of the Celestial Hundred is opened and consecrated at Independence Day in NTUU"KPI" close to interfaith the Church of St. Nicholas - the patron saint of the University.
Granite monument is in the form of Cossack cross. The opening ceremony began with a solemn prayer for Ukraine on the occasion of the 23rd anniversary of its independence. The head of the Ukrainian Greek Catholic Church His Beatitude Sviatoslav Shevchuk carried out a service.
And then with the sounds of church bells Vladyka Sviatoslav Shevchuk opened and consecrated the monument.
"I am convinced that this monument to the Heroes of the Celestial Hundred will inspire this and future generations kyiv polytechnics, and not only polytechnics, youth, all the patriots of Ukraine for approval of its independence, the fact that Ukraine took place as a powerful, dignified and very successful country" - said in his speech at the opening of the monument Rector of NTUU "KPI" NAS of Ukraine academician Michael Zgurovsky.
The ceremony was also attended by Minister of Youth and Sports of Ukraine Dmitry Bulatov, Chairman of the Verkhovna Rada Committee on Science and Education Liliya Hrynevych, president of the Junior Academy of Sciences of Ukraine, a member of a member of the National Academy of Sciences of Ukraine Stanislav Dovgy, president of the National Academy of Pedagogical Sciences of Ukraine, Academician of NAS of Ukraine Vasyl Kremen, the first cosmonaut of independent Ukraine, Hero of Ukraine Leonid Kadenyuk, famous Ukrainian poet, translator, screenwriter, and a public figure Ivan Drach, the famous Ukrainian poet, diplomat, statesman and public figure, translator and literary critic Pavlychko, people's deputies of different convocations, Ukrainian politicians, public figures, culture and arts workers, the representatives of the Christian confessions, the staff and students of the university.
Finally, the participants of the ceremony laid flowers to the monument and to the portrait of one of the heroes who gave their lives for the freedom and independence of our country, - the student KPI Yuri Popravka tortured by separatists in April this year.