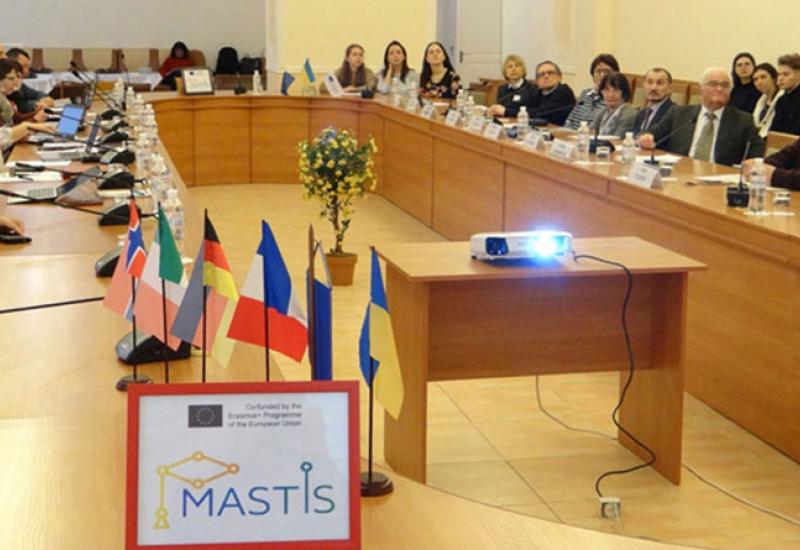 From 12th till 13th March in 2019 in the faculty of Computer Science and counting technics the international seminar ''MASTIS – Establishing Modern Master-level Studies in Information Systems'' was held based on European Union Erasmus+ project.
From Ukrainian participants were presented such universities as: NTU "KhPI",  Igor Sikorsky Kyiv Polytechnic Institute, KNEU named after S.Kuznets, VNTU, Lviv Polytechnic National University and Kherson State University. European consortium were represented by professor Jean Hugues Chauchat, Project Coordinator of Lyon university named after Lumiere Brothers ( France ), Tommaso Federici from Luiss Guido Carli`s university( Italy ), Jens Brunk from WWU ( Germany ), Borut Werber from university in Maribor ( Slovenia ), Eli Hustad from University of Agder ( Norway). The organizer of this seminar is the department of automated system of informational processing and management (ASIPM).
The participants of the seminars were greeted by the pro-rector of international connection,   member-correspondent of NAS of Ukraine S.I.Sydorenko, who handed over the greetings from rector M.S.Zgurovsky and wished success in seminar, and the dean`s deputy O.I. Lisovychenko, who underlined the unique opportunity for specialist from all Ukraine to get together and discuss the recommendations about the results and perspectives for MASTIS`s development.
The main aim of this project is in the improvement of information systems in master`s program according to the needs of modern society, react quickly on employers`  requirements, to give students an image of profiles of different jobs in the sphere of informational systems, to make their employment better. Thanks to this project Ukraine get an program for masters` training in this sphere in European level, that is harmonized with Ukrainian IT-industry and European requirements to IT-professions.
This program in MASTIS project is realized in such educational disciplines:
Information System Development and Deployment;
Information Technology Infrastructure;
Management of Information System Projects;
Innovations and Entrepreneurship;
Enterprise Architecture Management;
Information System Strategy;
DB and Data Warehousing;
Information System Security;
Igor Sikorsky Kyiv Polytechnic Institute`s representatives talked about teaching methods, results of students` progress and their material`s perception, results of students` poll that study MASTIS`s disciplines. The reader M.O.Sperkach, that teaches the discipline ''Management of Information System Projects'', in her presentation shows the technology of carrying out business games by Scrum and Kanban. The project coordinator in Igor Sikorsky Kyiv Polytechnic Institute – T.V.Kovaliuk made a presentation about ''Management of  Information System Projects'', in which she shows the purposes, learning results and competences for students. For students` motivation were used extraordinary approaches for teaching like the method of cases, business games, seminars with discussion and presentations that involved quizzes, independent work and solving crossword puzzles.
The teacher Y.O.Oliinyk presented his presentation ''Big data and its application'' in which he tells about the main ways for big data`s analytics and spheres where they are used. The professor V.M.Tomashevskyi introduced the presentation ''Information system`s development and implementation''. The lecturer showed how traditional technologies can help you to solve nonstandard tasks and implementation for IS. T.O.Tielysheva explained the content of discipline ''Information System Strategy''. Her presentation showed all complexities and versatility of this discipline: the necessity of knowing the analytic of business processes, having the basic knowledge of carrying out IS etc.
Even undergraduate students (masters) took part in seminar, and share their experience of how this knowledge where useful in their life. The seminar`s participants noted students` creativity and knowledge of English. Students showed their startups, and even had call on Skype with H.Shehet, who is having internship in San Francisco (USA).
Also IT companies` representatives joined the participation in this seminar. The Data Art`s manager A.Mykhailiuk introduced students with the question of employment and certification training. O.H.Zhdanova tells about content and structure of master`s dissertation in informational systems. The lecturer M.O.Sperkach introduced the possibility of capabilities for master`s program in informational system. Also the question of involving teachers and students in international conferences was discussed.
We want to note the high mark of organization, content of reports and teacher and student`s activity, that was also given by the project coordinator Jean Hugues Сhauchat and his colleagues from other universities in European Union.