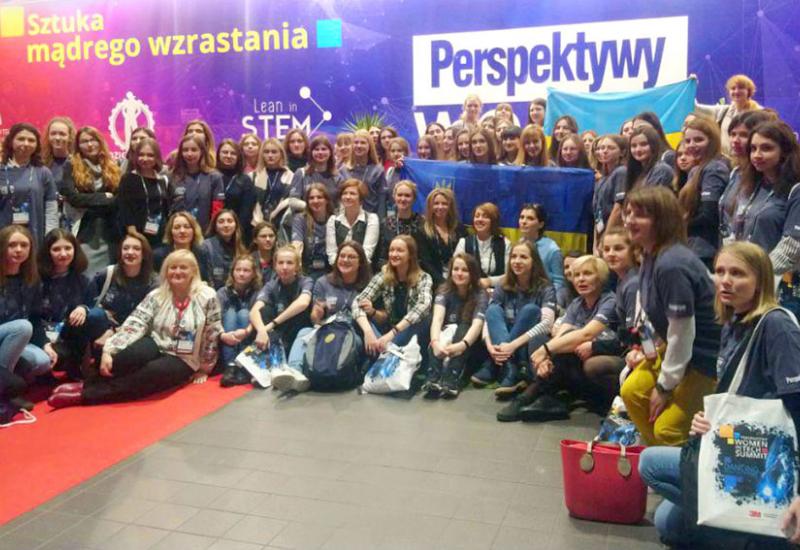 On November 13-14, the European Congress "Perspektywy Women in Tech Summit 2019" was held in Warsaw for the second time.
It became the largest event in Europe for women who are scientists and engineers. This is evidenced by his statistics: 6350 participants from 52 countries, 2977 student grants, and 150 additional lecturers, 80 seminars on technological, career and professional skills, 154 mentor sessions.
Since mid-summer, the Ukrainian-Polish Center and the Center for Gender Education of KPI were organizing it. Therefore, the Ukrainian part of the organizing committee of the European project "IT for SHE" prepared all the necessary documents and provided opportunities for 150 representatives of Ukraine to participate in EU projects in Warsaw on grants provided by the organizers. 100 of them represented KPI. For the first time, Ukrainian participants included schoolgirls, including students of the Polytechnic Lyceum of KPI, participants in the Future of Ukraine program, and winners of the Sikorsky Challenge All-Ukrainian festival of startup projects.
This Congress was gender-oriented and provided female students, graduate students as well as young scientists from different countries, including Ukraine with a chance to discuss educational and research technologies of the future, establish contacts, show opportunities for professional growth and exchange experience in the field of IT and join to the European integration processes.
Moreover, the participants could personally communicate with the leaders and representatives of the world's leading HighTech companies (such as Google, Amazon, P & G, etc.) and take part in workshops and networking. They had an opportunity to get acquainted with the presentations of colleagues, take part in discussions about artificial intelligence, climate change, cyber security and, of course, gender equality in professions related to technology. A special guest of the Congress was a talented American physicist, who is called the new Einstein, Sabrina Gonzalez Pastersky (Harvard University, USA). This year, the congress became the largest European gender event.
Anna Bidnyuk, Deputy Director of the Ukrainian-Polish Center of NTUU KPI
The participants' impressions
Alina Iskra, the worker of the International Relations and Protocol Support Department at SMS says "... The atmosphere that prevailed at the conference was more like a holiday. This was also facilitated by the enchanting beginning! Concerning the conditions, it is transferring on large comfortable buses (here, it is worth saying, a big gratitude for the drivers for their responsible attitude to their work, moral support and assistance during the passage of borders); accommodation in a cozy hotel (rooms are clean, comfortable, maximum two people in the room, which is also a big advantage, also, the participants were provided with buffet breakfast.) As one of the accompanying person (bus № 2), I would like to thank the girls who were on our bus, first of all, for their patience and understanding during crossing the border (because nobody knows whether the queues are in that place) and for the group spirit that prevailed on our bus. Of course, there were some nuances, but they are so small that they could not, anyway, affect on the grandiose impressions! "
Victoria Prishchepa, student of KPI says: "I liked the event and its concept. The very realizing that you have the opportunity to communicate with representatives of global brands is just something! As for me, I can say that in such companies as Google, Facebook, Amazon work ordinary and friendly people. We talked about company culture and technical issues, took pictures, and there was no status distance between us. We added friends on LinkedIn with some company representatives. And even though I wasn't looking for them on my page, and they weren`t looking for me from their phones, it was cool.
         It was a good beginning, I liked it. Workshops were also interesting. One of them, from 3M, talked about the opportunity to become a manager, even if you were a test taker before. I visited it too. There was also a practical part, during which the participants were divided into 4 teams of 2 people each: one was a tester and the other was a developer. They had to make a paper plane, which would fly further that means he won. I was appointed judge. It was a lot of fun and I was not afraid to speak the microphone in English.…
         After communicating, they talked to the speakers, and they said that before the beginning, they were quite worried about how things would go. But indeed, everything turned out to be amazing! "
Viktoria Popova, a school team leader:
"Warsaw is majestic and unpredictable. The skyscrapers of the new part of the city and the historic buildings of the Old City organically complement each other. The streets in the center attract tourists and inspire them for romantic reflection. And girls - for a photo shoot. Thank you for the given opportunity and positive emotions! "
Anastasia Venchkovska, a student of Lviv Technological Lyceum, a finalist of the 2019 Intel ICEF competition:
"It was a conference where I gained a lot of experience from the representatives of world companies, learned what they do and how I can share my ideas or even get involved in the internships immediately.
It seems to me that if I already were 18, a handsome man from Intel would offer me a job. I never imagined that I could speak English on so many different topics, and even understood everything he was saying to me. Such a conversation is just worth spending time and coming to the event. He inspired, advised, motivated and praised me, and later, when his colleague came, she told me about the speciality I might find more interesting to study. To make you understand, he also said that my "English is perfect" (but External Independent Evaluation does not think so).
In general: there was an incredible atmosphere, unusual and extraordinary people, a cool organizer, interesting lecturers and many gifts!"
Natalia Pozharska, the Head of Ukrainian Delegation:
"It was my second participating in the European Congress "Perspektywy Women in Tech Summit" of the EU project" IT for SHE ".
During our stay in Warsaw, we established contacts with representatives of Polish Higher Education Institutions and international companies. These are Wroclaw Polytechnic, Warsaw Polytechnic, Citigroup Inc., SoftServe (this Ukrainian company is, by the way, a permanent member of the Job Fair held at Igor Sikorsky Kyiv Polytechnic Institute), Google, Cisco and others.
... During the interview with the representatives of the Polish Higher Education Institutions and some companies, we received the information according to the holding university-based meetings with representatives of companies, career events, etc. It is decided that the practice of inviting students to the offices of leading companies is common and necessary in the process of professional self-determination of future specialists.
… Following the participation in the Congress, we have formulated proposals for a certain reformatting of the image component of Igor Sikorsky Kyiv Polytechnic Institute, the involvement of new university partners in industry, business, etc., continuing to familiarize students with the future profession by organizing visits to the offices of the companies and industries. Besides, we would like to consider the possibility of holding such events in Ukraine.
... I am very grateful to all the participants of the Ukrainian delegation for their fruitful work, friendly atmosphere and synergy! "