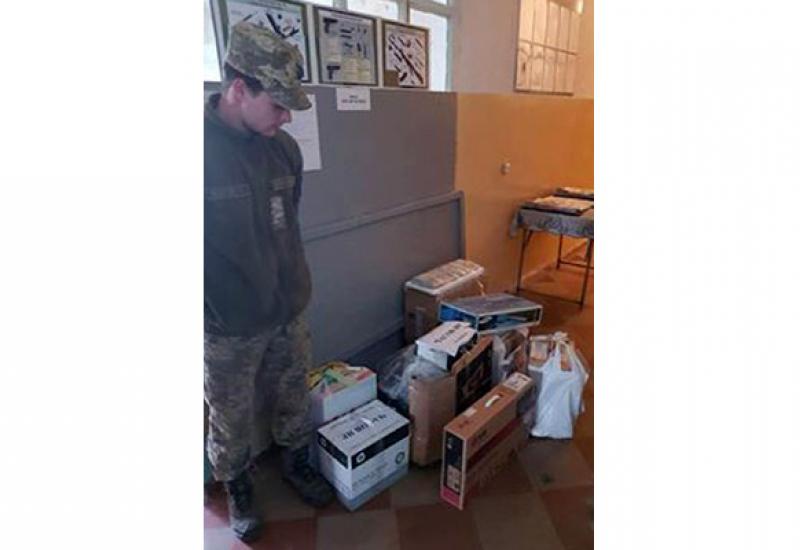 As you know, recently the anti-terrorist operation in Donbass was changed into the operation of the United forces. Such a change did not affect the activities of Kyiv polytechnic volunteers who continue to help our fighters. The latest news from the headquarters of the Volunteer Batalion of KPI are informed by the deputy head of the headquarters on organizational issues, a leading engineer of the Institute of Applied Systems Analysis Olena Beliayeva.
- Our volunteer organization has sent a parcel to the front-line 65th mobile hospital based in the city of Chasiv Yar, Donetsk region. We passed a stationary computer with a TV set, 5 bundles of paper for the printer, several boxes of confectionery: biscuits, waffles, candies, chocolates. Tea and coffee were added to arrange a festive table for military doctors for Easter (a volunteer car was delivering our parcel just on this holiday). We are thankful to the following units of the University: our Museum, FIF, IASA, personally to the Head of the Department of renewable energy sources Professor Stepan Kudria - without their help we would not have been able to send everything we planned. With the help of the engineer of the department of System Design of IASA Volodymyr Khoroshykh a laptop for Central Hospital was refurbished, we try to help the 65th mobile hospital in the restoration of normal work of mobile X-ray machine.
In addition, we continue to support the elderly settlers and settlers with children from Maryinka and Krasnohorivka, where houses and apartments were destroyed. They live in a hostel in the city of Kurakhove. We used "Nova Poshta" to transfer 9 bags of clothes, toys and household items to them.
We are pleased to announce that injustice in relation to students participating in combat operations who have reached the age of 23 years and who have been denied the opportunity to study free of charge, receive a social scholarship and pay for a hostel at a reduced rate from January 2017, is finally eliminated. According to the Law of Ukraine No. 6298, which was signed by the President on February 27, 2018, and will come into force on January 1, 2019, the privileges for the acquisition of higher education will be returned to ATO participants fully, without limiting them to 23 years of age. This was made possible by the volunteers who appealed to the Committee on Science and Education of the Verkhovna Rada of Ukraine with a request to help eliminate the discriminatory provisions of the Law. Thanks to everyone who helped us - the head of the trade union of university students Andriy Havrushkevych, the dean deputy of the faculty of sociology and law Konstiantyn Popov, the lawyer Valeriya Radovilska, the TVjournalist of ZIK Maria Zavialova.