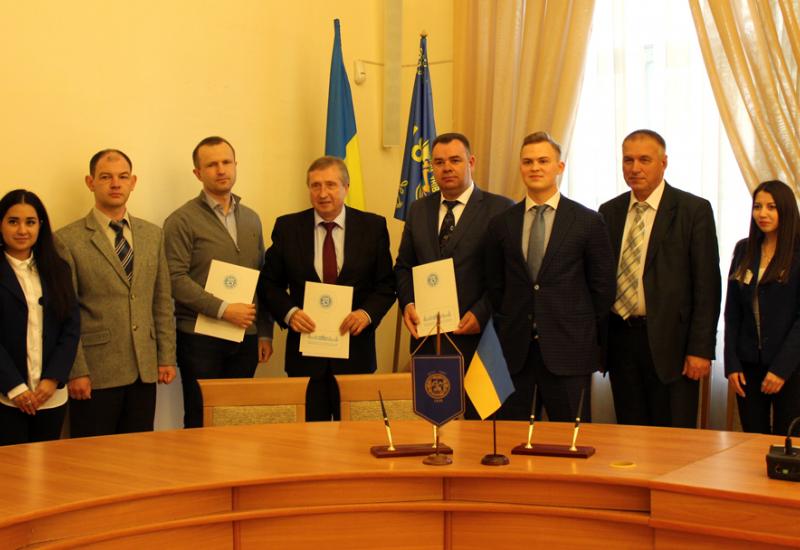 National Technical University of Ukraine "Igor Sikorsky Kyiv Polytechnic Institute", the Public Joint Stock Company "Automobile Company Bogdan Motors" and the Science Park "Kyivska Politechnica" will jointly develop new technologies and develop new types of transport. They agreed on this on April, 20.
They put their signatures on the document: on behalf of Igor Sikorsky KPI – Rector, Academician of the National Academy of Sciences of Ukraine Michael Zgurovskyi, from Bogdan Motors – General Director Vitaliy Starosud, from SP "Kyivska Politechnika" – General Director Volodymyr Hnat.
Participation in the signing ceremony was taken by the vice-rector for the scientific work of Igor Sikorsky KPI, Academician of the National Academy of Sciences of Ukraine Myhailo Ilchenko, Vice-Rector for Science Yuriy Sydorenko, representatives of the Bogdan Motors Company, departments and departments of the University and others.
The parties agreed to jointly implement a number of innovative high technology projects, the introduction of new high-efficient forms of production organization and the implementation of high-tech competitive products in the domestic and foreign markets. Scientists and manufacturers will also join efforts to find investments to meet these challenges.
Thanks to the signing of the agreement, KPI students will be able to take industrial practice at Bogdan Motors. In turn, representatives of the university will help corporations organize research work, master modern Ukrainian and foreign technologies, conduct their audit and certification, standardization measures, production testing, participate in research, etc.
"We aim to create joint creative groups of scientists, designers, technologists and jointly solve important problems of innovative development and modernization of machine building in Ukraine. Time can't be stopped. And "Bogdan" as an innovative responsible manufacturer has the aim to follow all the technological trends. By combining the production capacities and the best scientific opinion of the country, we will be able to bring the production of transport to a qualitatively new level" – said Vitaliy Starosud, General Director of PJSC "Automobile Company Bogdan Motors".
Collaboration with such a powerful corporation is also very beneficial to the university. After all, a number of departments and departments are traditionally working on transport development issues in the KPI. In particular, many of the tasks solved by university scientists lie in the plane of the state program of development and production of Ukrainian electric buses and the development of the necessary infrastructure in the field of scientific and technological and innovation activity in the development and modernization of electric motors and electric drives, storage batteries, charging stations, materials for bodies etc., as well as the training of qualified specialists in the development of technology and infrastructure for the production and operation of vehicles that will meet European safety and environmental standards. So, an agreement with Bogdan Motors, whose employees have vast experience in the production of vehicles of all types, will increase the efficiency of developments and improve the quality of training engineers for the industry.