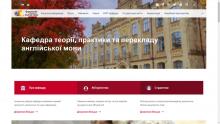 Department of Theory, Practice and Translation of English was founded at the National University of Ukraine in 1995. The sub department prepares highly qualified translators of scientific, technical and business literature, who work fruitfully in different fields of economy and business in Ukraine. Having profound knowledge of two foreign languages, their technical and business aspects in particular, our graduates are indispensable for communicating with foreign specialist not only at different international conferences and negotiations but for work at modern international structures and joint ventures as well.
The sub department directs our best graduates to work as ESP teachers at all the departments and institutions of the "KPI". At interuniversity student conferences students-linguists and students-polytechnics approbate their diploma papers in foreign languages.
The educational process involves highly qualified staff of scientists, lectures and teaches. The powerful stimulus for the faculty activities was well-known programme TEMPUS-TACIS. Under this programme 50 teachers attended refreshing courses abroad and the department has received scientific and methodological works done by the staff and substantial number of modern books, manuals, reference books and dictionaries by foreign publishing houses.
The sub department widely uses modern technical means: multimedia classrooms, audio and video equipment, which helps effective professional education.
Foreign teachers and lectures are often deliver lectures and lessons; different activities with authentic speakers are also organized at the sub department. Thus our students always have the possibility of communication with foreigners to improve their foreign language. Some of our students continue their education abroad under the programmes of 'students' exchange'.
Training of the specialists is performed at the full-time and correspondent courses on the basis of secondary, not-completed higher and higher education on the qualifications:
Bachelor of philology
Specialist-translator
Master-translator
The List of the Curriculum Subjects
Comparative Grammar
The History of the English Language
Neology of the English Language
Science Research Fundamentals
Translation of Business and Technical Documents
Translation and Editing of Commercial Documents
Written Translation of Different Texts
The English Language Practical Translation Course (3d year)
The English Language Practical Translation Course (4th year)
The English Language Practical Translation Course (5th year)
Practical Course of the Second Language (1st year)
Practical Course of the Second Language (2nd year)
Practical Course of the Second Language ( 3d year)
Practical Course of the Second Language ( 4th year)
Practical Course of the Second Language ( 5th year)
The Theory of Translation
Interpreting and Its Features
The English Language (practical course, target language) (1st year)
The English Language (practical course, target language) (2nd year)
The English Language (practical course, target language) (3d year)
The English Language (practical course, target language) (4th year)
The English Language (practical course, target language) (5th year)
The History of Translation
Translation Study Fundamentals
Comparative Lexicology of the English and Ukrainian Languages
Comparative Stylistics of the English and Ukrainian Languages