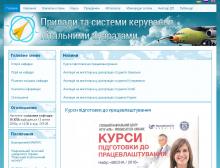 Address: 1 Botkina street, r.329, 03056, Kyiv, Ukraine
Phone: 38 044 204 83 17
Department of Aircraft Control Systems (ACS) prepares students
for a specialty 173 "Avionics";
educational program: «Control systems of aircrafts and complexes»;
specialization: «Control systems of aircrafts and complexes»;
including
Bachelors (4 or 3 years)
Masters (1.5 or 2 years)
Doctors of Philosophy and Doctors of Sciences
The Department of Aircraft Control Systems (DACS) was founded as the Department of Instruments and Aircraft Control Systems (DIACS) at the May Council of NTUU "KPI" in 1993, following the initiative of the rector of NTUU "KPI", academician M.Z. Zgurovsky, when it was decided to organize the faculty of aviation and space systems. One of the initiators and founders of this decision was the National Space Agency of Ukraine represented by its General Director - Academician V.P. Gorbulin, to revive at a new level the tradition of developing aircraft, which were founded at the beginning of the twentieth century in the writings of Professor MB Delaunay, the development of aircraft designer I.I. Sikorsky and spaceship designer S.P. Koroleva - students of the mechanical faculty of KPI.
The department changed its name from DIACS to DACS in accordance with order No. 7-49 of February 08, 2018 "On introducing changes to the organizational structure of the Igor Sikorsky KPI (reorganization of the faculty of aviation and space systems) and was transferred to the Mechanical Engineering Institute.
Since June 2019, when creating the educational and scientific Institute of Aerospace Technologies (IAT) as part of the Igor Sikorsky KPI, the department of DACS was transferred to IAT.
The department is headed by professor, doctor of engineering Oleksandr Vasyliovych Zbrutsky.
Lecturers and students developed many projects of multipurpose light aircrafts, software and program packages for calculating constructional parameters of the plane, original, patented navigational sensors, gyrocompasses for sea and river vessels, navigation and information systems for other industries.
There is a student office of small aviation and airborne equipment on the department. Also was created a scientific school of modern navigation systems.