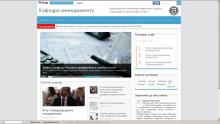 Department of Management was founded in 1988. At first (until 1991) it was called "Production management". In the department were assigned the task of organizing the training of specialists in production management, methodological management of educational process and scientific research in the CPI in the field of production management, in-depth training of managers target production.
In 1990, the department was the first in Ukraine began training specialists - organizers of production, specialty 0716 "Organization production. " Later (1994) specialty "Organization of production" was renamed "Production Management", and in 1997 the "Management".
From 2007 in "Management" started training bachelors and masters degree in "Management innovation "and Masters in" Specific categories "specialty" Management of innovative activity ".
Today, in the direction of" Management "at the department trains bachelors and masters in the field:" Management "," International Management " "Management of innovation" and masters in specialty "Management of innovative activity".