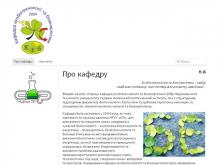 The Department was founded in 2004 as a new educational, research and development department of university, for identification and creation new branches in modern biotechnology – environmental biotechnology, and power engineering – bioenergy. Ecobiotechnology and bioenergy are aimed for fundamental study of biological systems for usage them in energetic, environmental protection and management, protection of biodiversity by searching and developing new technological and engineering approaches, materials and devices.
The formation of the Department was caused by the requirement of the labor market in highly qualified specialists with the system of interdisciplinary knowledge, skills and abilities in the field of biotechnology, bioenergy, bioelectrochemistry and ecology.
NTUU "KPI" obtained the educational license to provide educational activity in Specialty "Ecobiotechnology" in 2005, and in 2008 the license to prepare specialists with Master's degree was also obtained.
Academic staff of the Department includes specialists in different branches of science (chemistry, biology, physics and engineering) with many years of scientific and teaching experience.
Students extend their knowledge on the basis of the branches of DEB - at the Institute of Bioorganic Chemistry and Petrochemistry; Institute of Biocolloidal. Chemistry named after F.D. Ovcharenko of National Academy of Sciences of Ukraine; Ukrainian Institute of examination of plant varieties of the State Service for the protection of rights to plant varieties of the Ministry of Agrarian Policy of Ukraine.
The department is also working with other academic institutions (Institute of Microbiology and Virology n.a. D.K. Zabolotny of NAS of Ukraine; Institute of Colloid Chemistry and Water Chemistry n.a. A.V. Dumansky of NAS of Ukraine; Institute of Cell Biology and Genetic Engineering of National Academy of Sciences of Ukraine, etc..) and a number of companies (JSC "Slavutich", JSC "Macrochem", SM LLC "Ekomed", JSC "Kievmedpreparat", etc..). International and interuniversity association of DEB includes conducting cooperative R&D projects, educational projects, the organization of international conferences, short-term student and teacher exchange programs.